Jungwoo Hong: Korean Traditional Art and American Action Painting
He is not Jackson Pollock, Jasper Johns, Willem de Kooning or Jean-Michel Basquiat, yet just like them, he mixes various mediums in his paintings. As an artist, he prefers to work in places other than the studio, even on the street or in any bar, because it allows him to visualize his inner self. Inside his art works, ideas and methodologies arebased on Korean and American art concept and sensation. He travel into inner soul ever – like wimming feeling emotion through documenting his unconscious actions. Artists like Ungno Lee and Jean-Michel Basquiat inspire his art. Jungwoo Hong https://www.artmajeur.com/es/jungwoo-hong/artworks/9513310/daily-drawing-mindscape is a Korean artist working in painting, drawing and printmaking. His work was born between freedom and bewilderment, in the sense that painting something that has a certain size, and drawing small-scattered letters and numbers inside it, is able to offer to the observer's eyes something that looks a lot like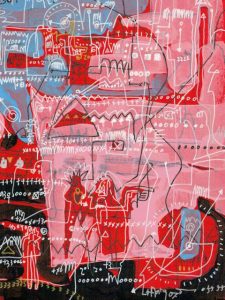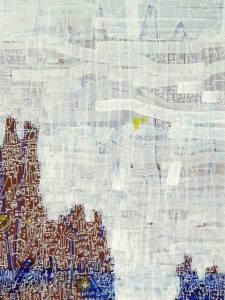 From his point of view, the important thing is not to create a new masterpiece, but to immerse oneself continuously in the atmosphere of the work, letting feelings and thoughts flow within oneself. In 2009, he attended the Guanlan Printmaking Workshop in Shenzhen (China). Born in 1981 in Seoul, and based in Daegu, his solo exhibitions include, for example, one of 2017 ("The landscapes remembered in the body" – Seoul, South Korea), and of 2016 ("Landscape of Mind Inside and Out ", Melbourne, Australia). Jungwoo Hong https://thecurators.com/collections/jungwoo-hong earned his bachelor's and master's degrees in Fine Arts from Hong-Ik University in Korea, while his Ph.D. in Fine Arts was obtain from RMIT University, Australia in 2016. Very free from objective referents, his work is an abstraction with extreme concreteness, and not simply a distant world of too abstract ideas.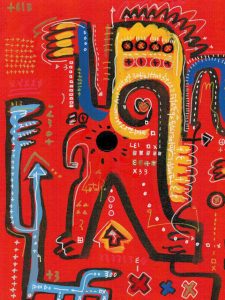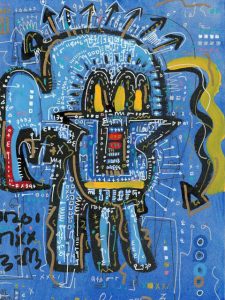 Ideas and methodologies on his works are based not only on traditional Korean art concept and sensation, but also on Jungian idea of atural Symbols and American action painting. During his university research, Australian artists David Thomas and Phil Edwards have inspired Jungwoo Hong https://www.saatchiart.com/jungwoohong. He is a type of artist who appreciates his childhood habit of enjoying graffiti, because combining it with other fragments offers him the possibility of completing any structured creative act. Compared to any creative working method, his way of expressing art is an ideally perfect case, because it is very free from any kind of systematic consumption.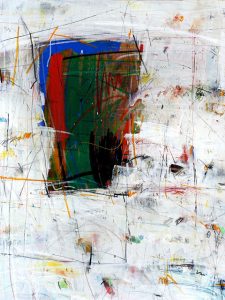 His work integrates text and visual arts, blending elements of abstraction and figuration with the ability to distill the perceptions of the outside world and translate them into a personal artistic language. His studio is overflowing with works that seem to want to describe, as a whole, something similar to a daily diary. At the start they are simple scribbles, yet, through a process of inner exploration, his paintings evolve into complete works. Having a background in psychology and fine arts, young abstract painter Jungwoo Hong https://crossingart.com/jungwoo-hong explores not only the human mind, but his habits as well. He has participated in numerous exhibitions (from Korea to Austria), receiving awards from the 7th Bitola International Triennial of Graphic Art and the 2nd Guanlan International Printing Biennial in Shenzhen, China.
The sole purpose of this site is to spread the knowledge of these creative people, allowing others to appreciate their works. If you want to know some already published cartoonists, you can type https://meetingbenches.com/category/cartoonists/.