This afternoon, we saw along the Bullfight in Seville, and I hope you have enjoyed the warmth of the sun and that of the crowd, but I would leave to you the flavors of Seville. My idea is to meet this evening at 1 Calle Mateos Gago. At what time? I suggest thoroughly after eight in the evening, according to local tradition.
You need not bring much cash with you, because eating "tapas" will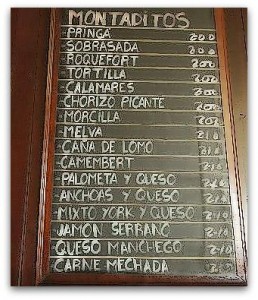 contain our spending around 15 Euros per person, including drinks, or "Vino Tinto and Cerveza." Obviously, you'll have to remember that we will not get into a bar or even in a restaurant, but in a "tapas", a place to eat "tapas" on the cheap, enjoying the real taste of Andalusia. I've already described the Andalusia, well you have to remember that this evening we will eat snacks of all kinds, exactly as we enjoyed the colors of Jerez, Granada and the amazement of the charm of Seville.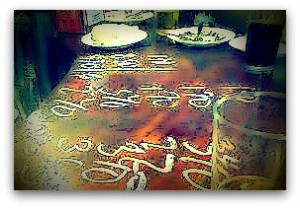 La Bodega Santa Cruz is always full of people, not only because the tapas cost only 1.50 Euros and a good vino de naranja just 1 euro, because the secret of this place is that it has been able to create a typical Andalusian atmosphere, and it done in an original way, such as when you see your waiter to write the account of your drinks, but not on a sheet of paper, but written with a chalk on the counter.
I am sure that you will do as I had done even I, a photo of your account.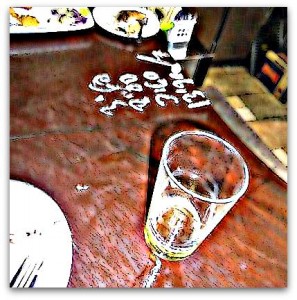 Yes, sometimes a picture can capture the smells and flavors, the music and the atmosphere, and the Bodega Santa Cruz will offer you the opportunity to enjoy the "Pirrana de Pulpo" (cold salad made ​​with olives, potatoes, octopus, onion and peppers), or the "flamenquín" ham rolled in a little pork steak. I have no idea what the waiter will mark my bill on the counter, "Brochetas", shrimp and fried fish, the ones that I love.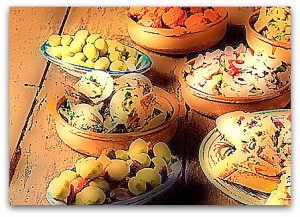 Of course, we will pay our bill, but our dinner of tapas is not over yet. A tapas tour has indeed its rituals: taste no more than three tapas in the same room, but at least try a second "tapas", where you take the tour of the flavors, in a new atmosphere. Our second stop will be at the Culinary Bar Estrella, and I'm sure you'll recognize the difference between this and the previous local.
I see that your eyes are curious, and maybe you already know you want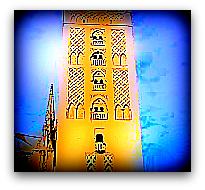 some details on that difference. Well, I do not want to spoil the surprise in your eyes, but two things I can say to you, even now: we will eat on the street, sitting around tables where you feel almost speak only Spanish. The other thing? You will have to raise his eyes to heaven, to see the Giralda.