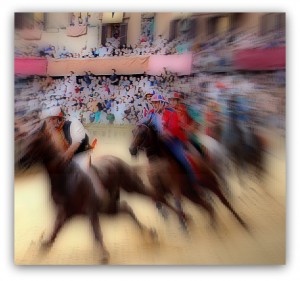 Welcome to our "Travel Bench." For this weekend, I would like to accompany you in the rolling hills of Central Tuscany, but not to make you drink good wine of Montepulciano, and even to see the Palio of Siena. My desire – but it is independent of any religious belief – is to help you along an ancient path, that of pilgrims traveling to Rome.
Our first stop is a place in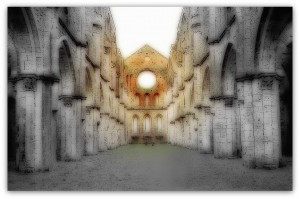 ruins, it is what remains of a Gothic abbey of the twelfth century. What is before our eyes is San Galliano, built by French Cistercian monks. If you want, we can also take a short walk to a nearby hill, the Monte Siepi, because I'd be happy to show you a small church, some frescoes by Ambrogio Lorenzetti, and also a strange stone, one that preserves the memory a legend, that of a knight without a sword.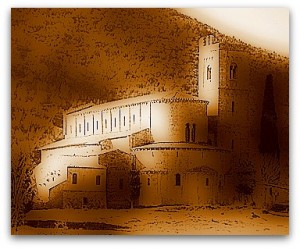 Listen Gregorian chant sung by the Augustinian friars, it is not something that happens often, and I am sure that what the two of us we are absorbing, in this Abbey of St. Antimo: serenity, a feeling of peace that comes from far away. It is not certain if it was Charlemagne founded this abbey in 781, but the facade of the church is in Romanesque style frank, rich bas-reliefs.
It was evening, and we are the third leg of our weekend in central Tuscany.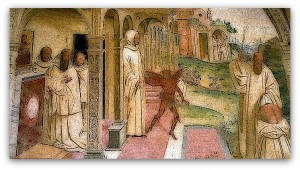 We have traveled the ancient Via Cassia, to arrive at Monte Oliveto Maggiore, the abbey you see above that hill. Established in 1313, the church was painted by two Italian painters Luca Signorelli and Sodoma, and what we are observing in his Great Cloister is like an open book, but its pages are the walls, and his words are images. I am sure that you, like other friends that I have here together, you will want to observe these paintings one by one, for their evocative power is great. We no longer have time to visit the frescoes in the cloister of Mezzo, but now that you know the three places where emotions do not have time, you can go back – and I will recommend in the fall – and leave you to wrap them.