Horizontal compositions and search for contrast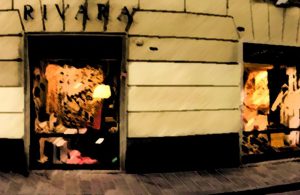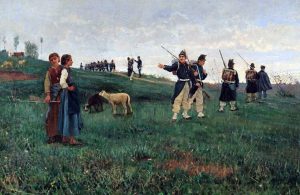 Among other things, it sells fabrics for shirts, blankets and handkerchiefs, with fabrics ranging from cotton to Irish linen. In the center of Genoa, the Giovanni Rivara Fu Luigi 1802 shop https://www.rivara1802.it/ is world famous for its Genoese mezzari, large cotton or linen cloths, richly decorated with brightly colored flowers. Alberto Issel, a Genoese painter who loved painting en plein air, had perhaps entered this shop to buy his red Garibaldi shirt.
Born in Genoa in a June day in 1848, he was an Italian painter and sculptor.He frequently painted landscapes various oil and watercolor seascapes, until after 1880, when an ocular malady impaired his ability to paint. In 1872, he worked like the earlier Macchiaioli in painting out of doors. Alberto Issel http://www.skira.net/en/books/alberto-issel was a pupil of the Accademia Ligustica, studied in Florence and moved to Rome, painting military subjects. He repeatedly stayed in Rivara, where he frequented the Piedmont landscape painters and refined his experiences on painting en plein air.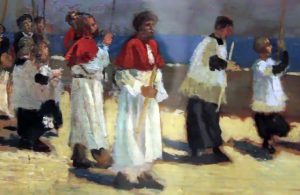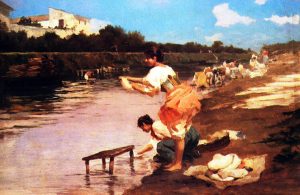 His father, interested in his artistic inclinations, initiated him into the study of artistic design. Alberto Issel https://www.invaluable.com/artist/issel-alberto-1dlorzmuuj/sold-at-auction-prices/ attended engraving courses at the Ligustica Academy, where his inclination for landscape painting was widely encouraged. In 1866, he volunteered with Garibaldi's troops, but due to an injury, he returned to Genoa. That experience of military life and soldiers left a lasting creative imprint in him. In 1880, he stopped painting, due to an eye disease, but his creative interest survived, because he opened a shop of ceramic artefacts and furniture production in Genoa.
His interest in live painting led him to Florence in 1867, where his relationship with Michelangelo's Macchiaioli influenced several of his paintings. His "Bivouac" http://www.museidigenova.it/it/content/gam awaits you at the Civic Gallery of Modern Art in Genoa-Nervi. His creative interest lay in the desire to develop a language that, through color and light, captured the immediate immediacy of his native land that is why he attended the summer gatherings in Carcare, where a circle of painters gathered to paint in the countryside Liguria. Between 1920 and 1923, he still painted some landscapes, dying in Genoa on a May day, in 1926.
To broaden your horizon of knowledge about other painters, you can type http://meetingbenches.com/category/paintings/. The sole purpose of this site is to spread the knowledge of these artists and that other people enjoy their works. The property of the images that appear in this blog correspond to their authors.