A key figure of Australian Impressionism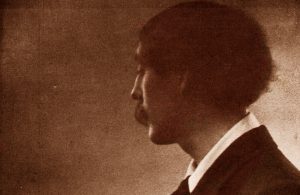 It is not difficult to draw and paint a landscape; however, you need to know a few things. To create a landscape you will have to choose the subject and place. Of course, you will start with light strokes, so you can easily make corrections. If your creativity wants to deal with sea, sky and sand, you can do like the painter Charles Conder who loved to paint in the open air, along the Hawkesbury River https://www.sydney.com/destinations/sydney/sydney-north/hawkesbury.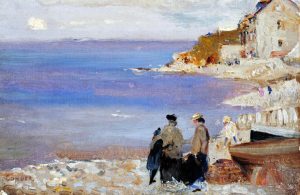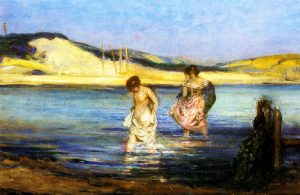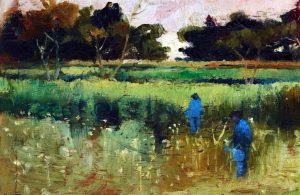 He began his art career in Sydney, where he started plein-air painting along the Hawkesbury River. His work featured in the Australian Impressionism exhibition at the National Gallery of Victoria in 2007. He immigrated to Australia, becoming key figure of Australian tradition in Western art. Charles Conder https://www.artgallery.nsw.gov.au/collection/artists/conder-charles/ was born in Tottenham (Middlesex), second son of a civil engineer, into an October day 1868, becoming a painter and designer. He spent several years as a young child in India, until he was then sent back to England, where attended a boarding school at Eastbourne. His father, against Charles's natural inclinations, decided that he should follow his example as a civil engineer.
At the age of 16, Charles Conder https://www.artexpertswebsite.com/artist/conder/ arrived to Australia, where he worked for a land surveyor for the New South Wales government, but preferring to draw the landscape rather than survey it. In 1886, he became an artist for the "Illustrated Sydney News", and attending painting classes had joined the Art Society of New South Wales. His theme of atmospheric conditions and urban streetscapes, derived from Japanese art. He was also draw to English coastal towns, enamoured by sea, sky and sand. He became involved with art nouveau, broadening the scope of his work to include book illustration and decorative painting on silk. He was closes to the French style of Impressionism, but least involved in portraying the Australian style of life.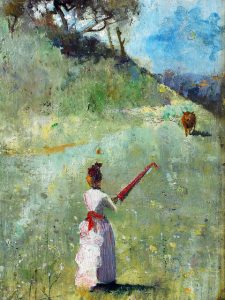 He was a fun-loving man who painted with an often-humorous touch. In 1888, he moved to Melbourne where he met other Australian artists. During his two years in Melbourne, Charles Conder produced a number of famous works (including a painting that showed the burning sunlight and desolation by an Australian drought. He moved to Paris where studied at the Académie Julian. Looking for financial security, on a December day 1901, in Paris, he married a wealthy widow.  He associated with an itinerant Italian painter, who has been credited with shaping his development. He spent the last year of his life in a Holloway sanatorium, where dies into a February day 1909.
To broaden your horizon of knowledge about other painters, you can type http://meetingbenches.com/category/paintings/. The sole purpose of this site is to spread the knowledge of these artists and that other people enjoy their works. The property of the images that appear in this blog correspond to their authors.