The transcendence of art, between military demarcation lines.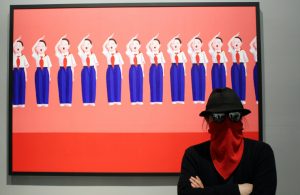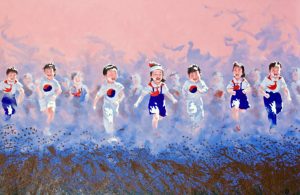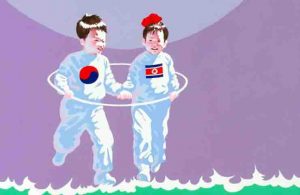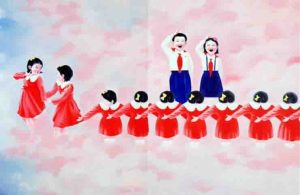 Traditional South Korean meals you wish try? Spicy ramen (topped with processed cheese), banchan or stuffed rice roll, savory pancake and soup. Banchan refers to those delicious little side dishes served at the start of a meal. In Itaewon, never forget visit at Sigol Bapsang http://www.heytheresia.com/2014/07/sigol-bapsang-itaewon.html, serves them as the main course. You will get at least different kinds of banchan, the same liked by a Korean pop art painter.
His style combines the military aesthetics of socialist realism with pop art, with an almost Disneylike touch. Instead of his real name, he uses the pseudonym "Sun Mu", and does not allow photos of his face. This Korean painter he worked as a propaganda artist in North Korea, before fleeing during a severe famine to South Korea. SUN MU https://sunmuart.com/ was trained by the North Korean Army, as a propaganda artist, and later he studied art in college.
SUN MU https://www.monsterchildren.com/50532/meet-north-korean-defector-and-propaganda-artist-sun-mu/has acquired notoriety for the Socialist Realist style of his paintings, which resemble North Korean propaganda imagery. One of his portraits was removed from a Pusan biennale, because o rganizers wanted to avoid problems. Working in South Korea, his works have become increasingly provocative, gaining fame for the skill with which they the style of socialist realism.
An exhibition of his works, at the Yuan Dian Gallery in Beijing, was cancelled in 2014 at the request of the Chinese authorities. His signature work is the "Happy Children" series of paintings, which show North Korean children. Images by SUN MU https://blog.naver.com/cmbbbb are replete with political satire, such as the North Korean leaders in Western clothing.
The property of the images that appear in this blog correspond to their authors. To broaden your horizon of knowledge about other painters, you can type http://meetingbenches.com/category/paintings/. The sole purpose of this site is to spread the knowledge of these artists and that other people enjoy their works.