Leaving academic traditions, venturing into naturalism and realism.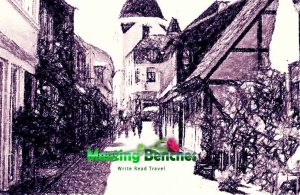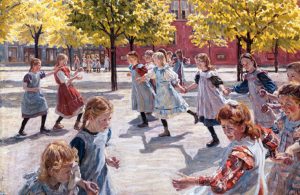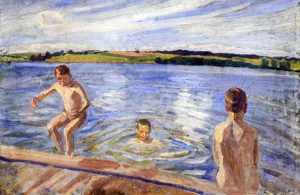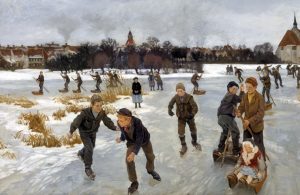 There is a reason why it is know as the garden island of Denmark. Funen is the island west of Copenhagen, where you will find fields full of wheat, new potatoes and strawberries. An iconic Danish village? Faaborg, a port on the island of Funen https://www.visitfaaborg.com/ln-int/faaborg/visitfaaborg, with red-orange tile roofs on top of yellow and white houses that embellish the blue waters of the Baltic Sea. Stroll through the narrow streets to find art galleries and small restaurants, or the Faaborg Røgeri Café for a light lunch of smoked fish, to be enjoye outside, overlooking the water.
His production shows from the beginning a well-developed sense of form and a fine coloristic sense. Raised in Faaborg, PETER HANSEN had learned the art of painting from his father. He painted what surrounded him, giving us paintings depicting landscapes, cities and people, Italy and Copenhagen. Like the others, at first, he was influenced by painter Theodor Philipsen. Sense of color, light and movement give his images an immediate view of nature. When you will stay in Copenhagen, at National Gallery of Denmark, you too can enjoy his 1908 Enghave Square.
His landscapes have high horizons, with widespread cornfields and deep-fence fences. PETER HANSEN was born in Faaborg into a May day, 1868. He became one of the "Funen Painters", group living and working on the island of Funen. He undertook many journeys, especially in Italy (where he stayed 5 times). When he was in Denmark, he loved to paint on his home island of Funen. From 1905, even Copenhagen (where he lived temporarily for part of the year), had become one of the places of his creative vein. His 1901 Children skating outside Fåborg, waiting for you at the Statens Museum for Kunst http://collection.smk.dk/#.
A Private Art Collection http://eaglefineart.co.uk/product/peter-marius-hansen-original-oil-rare-hand-signed-vintage/, it host his vibrantly coloured rare oil/gouache on paper (24cm x 16cm (9.4 x 6.3in), a superb period piece. His frequent visits to Italy influenced his work, as evidenced in the numerous paintings. PETER HANSEN became one of the finest Colourists of his day. He was one of the first artists venturing into Naturalism and Realism. He died in Faaborg, into an October day, 1928.
To learn more about this topic, you can type http://en.johanneslarsenmuseet.dk/. The property of the images that appear in this blog correspond to their authors. To broaden your horizon of knowledge about other painters, you can type http://meetingbenches.com/category/paintings/. The sole purpose of this site is to spread the knowledge of these artists and that other people enjoy their works.