THE PAINTER OF SKY AND CLOUDS – Eugene Louis Boudin: brilliance of colors and well-proportioned details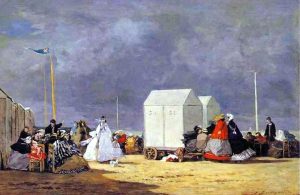 EUGENE LOUIS BOUDIN 1/3 – He was born in Honfleur in 1824 to a family of humble origins. In the town of Le Havre, before he opened a color store and devoted himself to painting, he had worked at a printing company. In order to deepen studies of pictorial technique, in 1848 he had traveled to northern France. Two years later, he had obtained a scholarship so he could study art in Paris, thus gaining a lasting technical training, which he applied to – painting nature.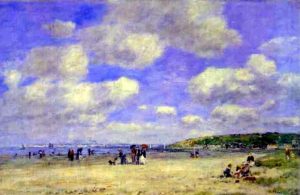 EUGENE LOUIS BOUDIN 2/3 – In 1855 he was again in Le Havre, painting with fine technique landscapes of the North Coast, filled with clouds and shades of blue. In these years he knew Courbet and Monet, who appreciated his creative originality towards landscapes. He liked stylistic innovations. Always he began to paint from a special creative stage, the one where he applied a white dye substance (a light blue ocher) on the canvas, then continued to overlay the colors with hard bristle brushes, creating areas of greater brightness.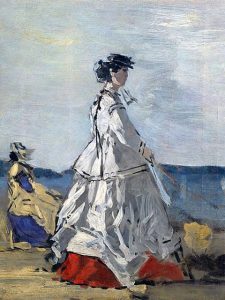 EUGENE LOUIS BOUDIN 3/3 – In 1868 he performed decorative panels for the castle of Bourdanville. Two years later he moved to Brussels, where he knew an art merchant, who understood the importance of Impressionists. In 1874 he participated in the first exhibition of the Impressionists. He traveled to Italy and the Côte d'Azur, specializing in painting marine landscapes, which took on the canvas with strings applied layer after layer, maintaining brilliant colors and well proportioned details. To admire some of his paintings, you can visit the Musée Marmottan Monet http://www.marmottan.fr/uk/ in rue Louis Boilly 2, near the Parc de la Muette in Paris.
The intellectual property of the images that appear in this blog correspond to their authors. The sole purpose of this site, is to spread the knowledge of these painters and that other people enjoy their works.