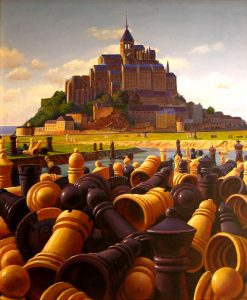 ERNESTO ARRISUENO 1/3 – He was born in Lima, Peru, studied studied art in Lima before completing a Bachelor of Architecture degree at Ricardo Palma University. Architectural drawing, for which he had won numerous prizes as a student, became a mayor theme in his artworks. His figures and objects are juxtaposed with beautifully rendered buildings fragments.
ERNESTO ARRISUENO 2/3 – He moved  to Australia in 1988 and soon found success in local exhibitions. His paintings were acclaimed as having a crisp reality creating an air of mystical calm, a world of still waters, a myriad of flowers and isolated enigmatic figures. He blends his memories of his early years in the dry barren landscape of Peru with the traditions of his life in Australia. There's a sense of realism with a blend of imagination. The more you look out toward the landscape.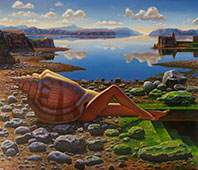 ERNESTO ARRISUENO 3/3 – He exhibited widely in Peru in both individual and group exhibitions. Except from many awards from Peru, he was the Finalist 2016 "Moran Art Prize" Sydney, Australia.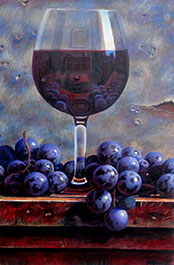 To see the gallery of paintings, click here:  http://meetingbenches.com/2017/02/ernesto-arrisueno-1957-peruvian-artist/
Note: The intellectual property of the images that appear in this blog correspond to their authors and to those who have given them. The sole purpose of this site is to spread the knowledge of these painters and that other people enjoy their works.