Painting around the man-woman relationship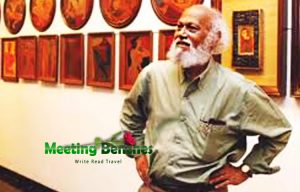 In 2012, he was conferred the India's highest civilian award for his contribution to art. He is counted with reverence among India's contemporary artists, shining like the northern star in the various venues of creative expression. Starting 2001, Jatin Das mural The Journey of India https://www.inditales.com/visiting-the-parliament/, waiting for you at Indian Parliament, in Delhi.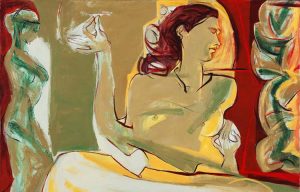 Counted amongst the most contemporary artists of India, painter, sculptor and muralist Jatin Das https://www.jatindas.com/ was born in Baripada (Mayurbhanj, Odisha) in 1941. He studied at the School of Art, Bombay. Thereafter, he started participating in national and international art exhibitions. Some important exhibitions where he participated include the Documenta in Kessel, the Biennales in Paris and in Venice. Sculptor and painter, muralist and poet, he is counted among the most creative artists in India.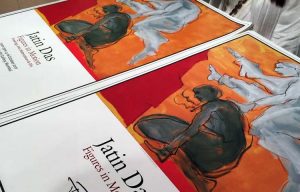 As you can see, the linear arrangement and lively brushwork add a very original dimension to his paintings. Over the last 35 years, he has built a large personal collection of traditional arts and crafts. His works feature in several public and private collections. He works in oil, watercolor, ink and graphics. Held over 68 one-man exhibitions, Jatin Das https://scroll.in/magazine/853303/i-do-my-own-thing-artist-jatin-das-explains-what-makes-his-work-so-distinct has been painting for 50 years, creating also murals and sculpture installations. Recipient of the Padma Bhushan Award, he is one of the most respected Indian artists.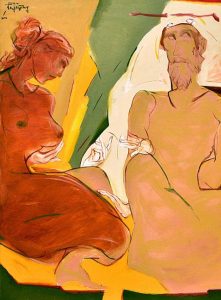 For him, painting is an intensely personal experience, with results that cannot always be shared with others. Jatin Das https://www.saffronart.com/artists/jatin-das lives and works in New Delhi. In 2009, he made a mural for the Chelsea Arts Club facade in London. He has been involved in various roles with art institutions, as a teacher at the College of Art in New Delhi and a consultant for the Folk Art Museum in Orissa. Father of Nandita Das, a famous actor, he has contributed creatively to the field of Indian art for the past 50 years.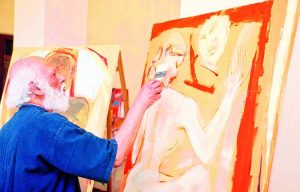 His passion for art and his non-materialistic attitude set him apart from other contemporary artists. The man-woman relationship, with all the pain and joy that comes with it, is his constant source of inspiration. The human body, for Jatin Das https://www.mojarto.com/artists/jatin-das holds an infinite fascination, which is why he loves to paint dynamic figures, using quick brushstrokes that outline linear structures.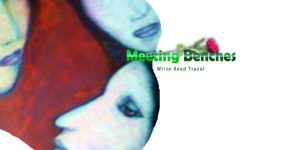 To broaden your horizon of knowledge about other painters, you can type http://meetingbenches.com/category/paintings/. The sole purpose of this site is to spread the knowledge of these artists and that other people enjoy their works. The property of the images that appear in this blog correspond to their authors.