Painting musicians, private lessons and city streets
For your stay in Siena, choose a period residence equipped with every comfort. A few meters from the great masterpieces of Siena, the Palazzo Coli Bizzarrini https://www.palazzocolibizzarrini.com/en/home-en/ is one of the best examples of the Renaissance period. Today, it has been converted into an accommodation with impeccable services, where history is intertwined with the city's treasures. Sienese creativity also has its smells and flavors. With its culinary specialties (crostoni, salami, ribollita), Osteria la Mossa https://it-it.facebook.com/osterialamossasiena/ awaits you at 29 in Piazza del Campo. A late nineteenth century painter, born not far from here, ate in the same way.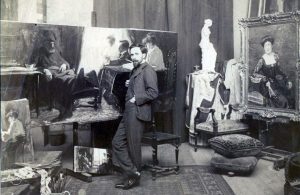 The Reader is one of his paintings visible at the Luxembourg Museum in Paris. Musicians, for much of his life have surrounded his creative talent. He was born in Cetona (Siena) in 1872, starting his studies at the Rome Academy of Art, to complete them in Naples. In 1897, Lionello Balestrieri https://museorevoltella.it/english/ moved to Paris, winning the gold medal at the Universal Exposition with Beethoven, a painting that increased his notoriety, then purchased by the Revoltella Museum in Trieste.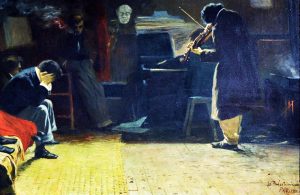 Open on weekdays, his art studio is located on the second floor of the Palazzo Comunale di Cetona, in Via Roma 41. His works are now preserved in the Indianapolis Art Museum, the Städel Museum in Frankfurt and the Revoltella Museum in Trieste. Son of a bricklayer, he was admit to higher art studies for his strong creative skills. Painter and engraver, Lionello Balestrieri https://fondazionebalestrieri.com/ explored various styles, with an activity that took place between Paris and Naples. Attracted by the artistic circles of Paris, he moved there at the age of 20, working as an assistant to an engraver. With his engravings at the edition of the Divine Comedy by Dante Alighieri, he contributed to that publication made in 1900 by Vittorio Alinari.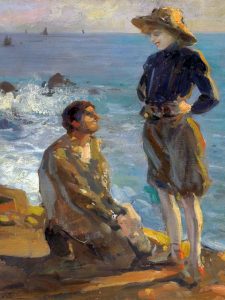 With fame, the ease and friendship of many musicians also arrived, including Giacomo Puccini. Passionate about music, in 1898 Lionello Balestrieri http://www.artnet.com/artists/lionello-balestrieri/ painted the death of Mimì. In 1902, he made the last days of the musician Domenico Morelli, currently exhibited at the Galleria Civica di Udine. He continued to paint romantic subjects, with a style influenced by Impressionism and Macchiaioli, up to social realism. In 1914, he settled in Naples, directing the Institute of Fine Arts. Over the years he devoted himself to village painting, without neglecting self-portraits.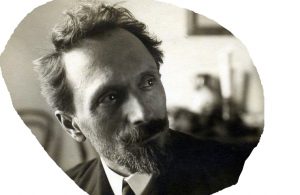 Staying true to his romantic vision, he painted with shades rich in shadows. Lionello Balestrieri https://www.invaluable.com/artist/balestrieri-lionello-ynglrayfq8/sold-at-auction-prices/ also joined the group of artists from the Ostinati, who met at the Tripoli Cafe in Piazza del Plebiscito, in Naples. Under the influence of futurism, in the 1920s he painted works that celebrated fascist power, while in the 1950s he experienced modernism and cubism. As he got older, he returned to Cetona, painting landscapes until his death on an autumn day in 1958. In his hometown, a foundation is now active that takes its name.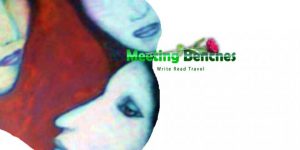 To broaden your horizon of knowledge about other painters, you can type http://meetingbenches.com/category/paintings/. The sole purpose of this site is to spread the knowledge of these artists and that other people enjoy their works. The property of the images that appear in this blog correspond to their authors.