Traditional and surrealist art, exhibited in the main biennials of the world
Their black hats and pouches containing amulets can identify Bolivian yatiri. The Witches' Market is a popular tourist attraction located in Cerro Cumbre, a mountain clearing in La Paz. Merchandise (sold run by local witch doctors known as yatiri), includes medicinal plants and armadillos. Most famous of all the items sold are the dried llama fetuses, buried under the foundations of Bolivian houses as a sacred offering to the goddess Pachamama. In his home-laboratory, the Bolivian painter Gil Imaná has masterfully interpreted the magic of this Andean world.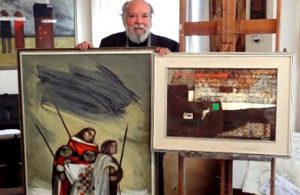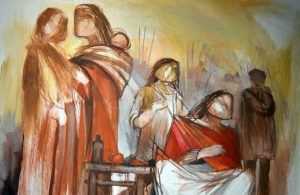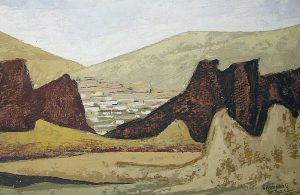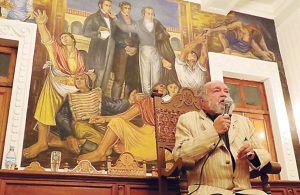 Gradually, his palette has discovered rhythms, colors and traits that reflect his vision of the world. His lab-house in La Paz has been declared cultural heritage of the city. He has made over 80 individual exhibitions and 200 collective exhibitions, participating in the biennials of Maracaibo, Miami and Venice. Bolivian muralist painter, he founded the Anteo Group in 1950, becoming professor at the High School of Fine Arts of La Paz. Gil Imaná https://www.facebook.com/243304844475/posts/216000538439222/ was born in Sucre (department of Chuquisane) in 1933, where he studied painting and made his first exhibition in 1949
The earth he painted is that carved rock of the Andes, of the hissing wind and of the immense plateau of ocher tones. In his hometown, Sucre, his murals have been declared historical heritage. Together with his wife, they created important murals. He was the first Bolivian painter whose works were sold in the Christie's and Sothebys auction shows. Gil Imana https://www.youtube.com/watch?v=3lUUOwvOBVk organized the Bolivian art exhibition at the Museum of Modern Art in Paris. He was the first Latin American painter to exhibit individually at the Hermitage Museum in St. Petersburg. In 2017, he donated all his assets to the Cultural Foundation of the Central Bank of Bolivia, for a total of six thousand pieces.
Strongly influenced by indigenous painting and Mexican muralism, he built a magical amalgam between the human being and the earth. He is a figurative painter with a particular aesthetic, a creative who has done an interesting job concerning the peasants of the highlands, their loneliness, anguish and misery. In Sucre, Gil Imaná murals that stand out about his work they are History of telephony and March to the future. Visiting La Paz, you will admire Earth and life, Transit in time and Feast of health.
To broaden your horizon of knowledge about other painters, you can type http://meetingbenches.com/category/paintings/. The sole purpose of this site is to spread the knowledge of these artists and that other people enjoy their works. The property of the images that appear in this blog correspond to their authors.