Joy of living, aesthetic experiences and mental refreshment.
His native Záhorie (Western Slovakia, between the Little Carpathians to the east and the Morava river to the west), constitutes a powerful basis for his conditional graphic inspiration. His illustrations were also for children's books. He was born in Záhorie, on Christmas Day 1935. He studied at the Academy of Fine Arts in Bratislava, starting his early career in art by working on stage set and poster design. In 1981, Albín Brunovský https://www.galleryslovakia.sk/albin-brunovsky, was appointed an art professor. His work often mirrored that of the modern movement.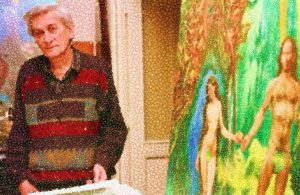 One of his important artistic focus was graphic design in the field of stamps. Over the course of his career, other artists influenced him in his subject matter by poetry and literature. When he was young, he exhibited surrealistic tendencies. Later, his work became more critical in relation to himself and society. As his mastery of techniques evolved, so too did his vision as an artist. Slovak talent of the communist era, Albín Brunovský used nature and its elements to depict the reality of dreams.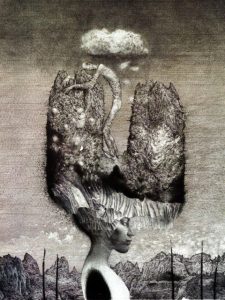 Almost in every one of his works, there is a woman, an inexhaustible subject that he loved to portray in relation to nature. The routine helped him create precisely crafted compositions. In 1975, he bought a cottage in his native Záhorie, where he spent the whole summer each year. Many of his illustrations were done in watercolor and he eventually began to paint major works. Etching were the characteristic mode of his graphic artwork during the mid-1960s, but Albín Brunovský was a painter too. He died on a January day, 1997, in Bratislava, remembered such as one of the greatest Slovak painters of the 20th century. https://www.nga.gov/collection/artist-info.22290.html.
The sole purpose of this site is to spread the knowledge of these artists and that other people enjoy their works. The property of the images that appear in this blog correspond to their authors. To broaden your horizon of knowledge about other painters, you can type http://meetingbenches.com/category/cartoonists/.