Eerie and sublime Scandinavian landscape.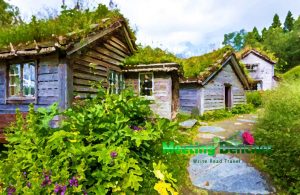 From this place, you can see Bjørsetfjellet (a mountain that presents in many of the paintings of a Norwegian painter. Astruptunet http://www.artiststudiomuseum.org/studio-museums/astruptunet/, is the place where a very creative man bought his farm. In 1914, he and his family moved into a building there of logs that had only one room. Until his death, the house and the courtyard allowed him to do subsistence farming. In many respects, this farm (which we advise you to visit), is the microcosm of the artist and his ideas.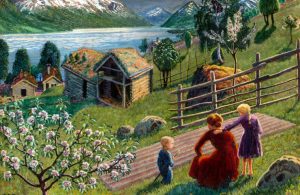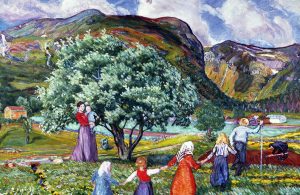 His style has been described as being so much brighter in colour and in mood. For approximately $500,000 USD, several of his paintings have been sold at auctions. With colors, he describe an interaction between nature and the developed environment. Through his paintings, NIKOLAI ASTRUP sought a national visual language that evoked traditions and folklore of his homeland. Landscape proved to him a strong influence. He made landscape art, depicting his surroundings in Jølster, always preferring clear, strong colors
His father wanted him to become a priest; however, son was more interested in painting. He was the eldest son of eleven children. Depicting the lush landscapes of Vestlandet (featuring the traditional way of life in the region), he was become an innovative artist, noted for his intense use of color. Norwegian NIKOLAI ASTRUP was born at Bremanger, in into an August day, 1880, grewing up in Ålhus (rural Jølster between the Sognefjord and the Nordfjord).
In 1899, he left for Oslo, where during two years he was a student at school of painting. Then, he lived for in Paris, where he was a student at Académie Colarossi. Returned to Jølster, NIKOLAI ASTRUP held exhibitions at Kristiania and Bergen. In 1913, he settled with his wife and children in Astruptunet on the (south side of Lake Jølstravatn), across from the village of Ålhus. At the age of 47, he died of pneumonia in Førde. KODE (Bergen's largest museum for paintings), has devoted one wing entirely to the artistry of this creative man.
To pursue this issue, you can digit https://globuzzer.mn.co/posts/modern-art-museums-in-helsinki. The property of the images that appear in this blog correspond to their authors. To broaden your horizon of knowledge about other painters, you can type http://meetingbenches.com/category/paintings/. The sole purpose of this site is to spread the