I shut my eyes in order to see.
When you are in Paris, do not forget to enter the Musée d'Orsay, where you can admire a masterpiece by PAUL GAUGUIN: Arearea. In the heart of the Champs-Elysées, the restaurant is an address particularly appreciated by the world of culture and the seventh art. At Fouquet's Paris https://www.hotelsbarriere.com/en/paris/le-fouquets/restaurants-and-bars/fouquets.html, by booking "Menu Gagnaire", you can order à la carte if you change your mind. On the southern coast of Tahiti, a semicircle around the Island Papeete, houses the Paul Gauguin Museum, right in the city of Papeari. The exhibitions illustrate his life in Polynesia through photographs, letters and other documentation.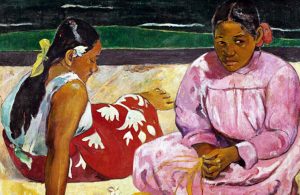 His life is a constant journey, towards the origins. He was born in 1848 in Paris, the son of a journalist and an aristocrat who had moved to Peru. When he returned to France seven years later, PAUL GAUGUIN attended the schools of Orléans and Paris. At seventeen, he took part in the Franco-Prussian war, and then he returned to Paris where he met his guardian's daughter, from whom he learned to paint. He began to visit museums, met Camille Pissarro and married a young Danish family, who would give him five children. Captured from painting, he leaves his job and moves to Denmark, but after a few years, he returns to Paris, where he meets Vincent van Gogh. You can admire his "Portrait of an artist with the yellow Christ" (oil on canvas, 30 × 46 cm, 1889), at the Musée d'Orsay, Paris.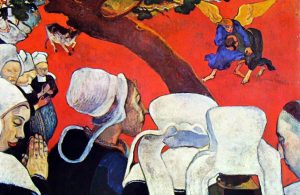 His dream is to immortalise a pristine world that is why he left for Martinique in 1887. Back in France, shares a house with Van Gogh, in Arles. The cohabitation between the two is not easy, so PAUL GAUGUIN returns to Paris. Earn money for a new journey, selling some of his works, being able to leave for Tahiti in 1981. Accomplice the ancestral reality of the landscapes, in the Tahitian period its productive production is vast.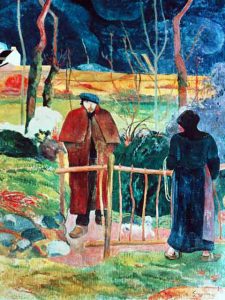 Two years later, he falls ill and returns to Europe, selling Teletaitiane to return to Polynesia. He spent the last part of his life on the Island of Hiva Oa (where he died in 1903), even dedicating himself to writing some books. Visiting the Museum of Fine Arts in Boston, you will have the chance to admire one of his great oil on canvas: Where do we come from? Who we are? Where do we go?
The property of the images that appear in this blog correspond to their authors. The sole purpose of this site is to spread the knowledge of these artists and that other people enjoy their works. To pursue this issue, you can digit: https://www.paul-gauguin.net/