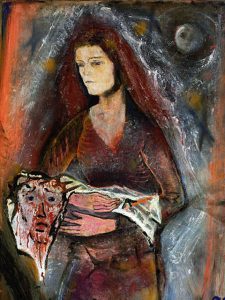 OSKAR KOKOSCHKA 1/3 – His life full of passion, the desire for humanity and obsession with one woman. This, with brutal sincerity, shows his paintings. He never adhered to expressionistism, but his works represent some of the highest vertexes of historical expressionism. His paintings can be divided into three groups – portraits, landscapes and allegories. He perceived himself as a nature observer, and whether he was a portrait or a landscape, he always painted the model. "I usually start my paintings without pre-sketches, I do not think routine or technique can help. I depend on how I can capture the mental impression that remains, even though the image has disappeared. I'm interested in a flash of my eye, a small change of expression that reveals internal marches." He was born in Pöchlarn in 1886 and at the age of fourteen, attracted by every figurative artistic form, he began to paint. In Vienna he attended the School of Applied Arts, approaching primitive art and Japanese culture. In the early twentieth century he studied at Vienna's Fine Arts Academy, where he was influenced by Gustav Klimt's works.
OSKAR KOKOSCHKA 2/3 – He was not just a painter, because he had a multifaceted creative impulse, which pushed him to create decorative postcards. In 1914 he made one of the most impressive images of all his production, the painting "The Bride in the Wind", the work, which was his tribute to woman, he loved his entire life, even after she rejected him after tormented and sentimental affair. This oil on canvas (181 x 220 cm) is housed in the Kunstmuseum in Basel. His lover – Alma Mahler wrote in his diary in 1913: "At Three Crosses, our life is all about his work." You can admire the painting at the Leopold Museum in Vienna, http://www.leopoldmuseum.org/en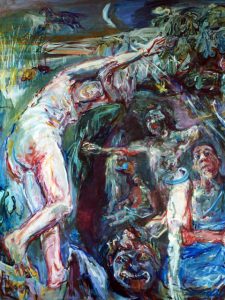 OSKAR KOKOSCHKA 3/3 – He wished to know people. "I would really like to admire people, observe their behavior to know the naturalness of the society in which I have to live." In 1915 he painted "The Wandering Knight". He moved to Dresden, where he taught at the Academy of Dresden from 1920 to 1924. These years he privileged to paint large spaces, adopting bright and bright colors. His works were characterized by a strong deformation of the protagonists, in order to give meaning to the sensations. In the last years of his life he continued to work tirelessly, inaugurating his archive in his Pöchlarn's birthplace. He has written many plays, poems, essays, lectures of memoirs. He has illustrated some of his texts as well as classical literature and mythology. He was interested in politics, edited magazines and designed political posters. He continued to travel, and under the pressure of political events twice changed his nationality. He founded a school of arts and a foundation to support refugees. He died in 1980 in a hospital in Montreux (Switzerland). Two bare lovers, is a canvas oil of 1913, visible in the Museum of Fine Arts, Boston.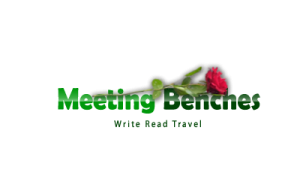 The intellectual property of the images that appear in this blog correspond to their authors. The sole purpose of this site, is to spread the knowledge of these artists and that other people enjoy their works.