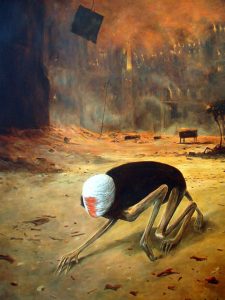 ZDZISLAW BEKSINSKI 1/3 – He never provided names (nor explanations) for any of his paintings. He was born in Sanok (southern Poland), http://www.muzeum.sanok.pl/pl/ where he started in architecture, but hated it and became a painter. In 50s he spent a few years working as a supervisor at construction sites for Autosan bus factory. http://meetingbenches.com/2017/04/wonderful-sanoks-landscapes-poland/ Painting on hardwood boards he prepared himself using oils. His creatures are misshaped wretches, which might have been human once. His ability to manipulate the effects of light became a hallmark of his work and can be compared with the abilities of William Turner.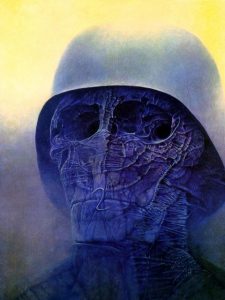 ZDZISLAW BEKSINSKI 2/3 – He didn't like painting in silence, so he was always surrounded by classical music. Despite his fame as a painter (as well as works as photographer, sculptor and graphic designer), he had never had any formal training in the arts. In 1984 he established a contract with a business man, who spread his popularity in the west. Most of his apocalyptic artworks were finished during the period, which lasted up to mid 1980s. His landscapes are painted orange and red, by unseen fires. He created a unique style, which in his erotic works came close to apocalyptic visions and teetered on the brink of kitsch.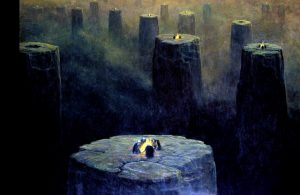 ZDZISLAW BEKSINSKI 3/3 – Apocalyptic art has been popular since 90's, but few works are darker than those of Zdzisław Beksiński. Meaning is meaningless for him and he painted, what he painted without meditating on a story. The blend of vivid colors (in relation to other more subdued colors in his paintings) is like a musical theme. Despite what his work would suggest, he was considered to be a man with a keen sense of humor. Much of his art is displayed in the Sanok Museum of art in his native town. http://culture.pl/en/place/national-museum-in-wroclaw His art hangs in the National Museums Warsaw, Krakow and the Goteborgs Art Museum in Sweden. He was stabbed to death in 2005.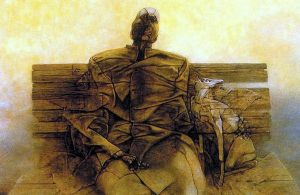 To pursue this issue, you can digit: http://meetingbenches.com/2017/04/zdzislaw-beksinski-19292005-polish-painter-wish-paint-manner-photographing-dreams/
The intellectual property of the images that appear in this blog correspond to their authors. The sole purpose of this site, is to spread the knowledge of these painters and that other people enjoy their works.