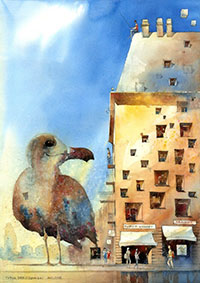 TYTUS BRZOZOWSKI 1/4 – is an architect and watercolorist from Poland. He graduated from the Faculty of Architecture of the Warsaw University of Technology. He also studied and worked in Finland where he explored severe Nordic art and design. This period was represents important part of his artistic education. He learned about the basics of nature, such as light and shadow, reflections, colors, perspective. He has been working in Jems Architects for five years.
TYTUS BRZOZOWSKI 2/4 – He is great admirer of his hometown, Warsaw, as his inspiration and driving force. He plays with elements of the city like pieces of a jigsaw puzzle, using Warsaw's historical and geographical landscape as a starting point, how to put the pieces together again. He presents the city of his dreams, in which he wants to live. In his paintings Warsaw has the essence of the modern city, full of decorative buildings and narrow streets. Using surrealistic elements and tricks with perspective and light, he gives to his paintings a sense of magic and mystery.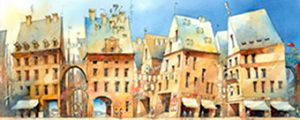 TYTUS BRZOZOWSKI 3/4 – Both, in architecture and painting, the artist cares about texture, mood and light. Artist statement: "I feel the same excitement while designing space to be useful and interesting for its users as while creating scenes in my watercolors. I'm a passionate of the city, it's bustle and mood"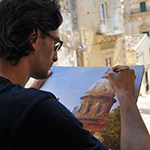 TYTUS BRZOZOWSKI 4/4 – Currently the artist exhibition is organized by Tamka 43 Café Lumarte, Warsaw, presenting selection of his paintings of 2016 daily till 21.01.2017.
To pursue this issue, click here : http://meetingbenches.com/2017/01/tytus-brzozowski-polish-architect-and-watercolorist-a-fairy-tale-in-warsaw/