Native American art is also called Indian art or American Indian art.
Check selected painters and enjoy the cultural heritage, different character and themes of the paintings over centuries.
Do you prefer traditional or modern innovative painters ?
NAVAJO SAND-PAINTING – The sand-painting has been u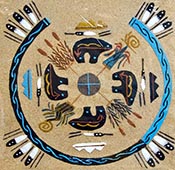 sed for centuries in religious rituals, including healing ceremonies. A sand-painting for a ceremony is made on the ground in the ceremonial indian lodge and destroyed at the end of the ritual. In order to preserve this long-standing tradition, in the late 1940's Navajos began to create permanent sand-paintings, changing the design slightly to protect the religious significance when these paintings were shown publicly.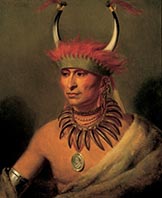 CHARLES BIRD KING – was an American portrait artist, best known for his portraits of significant Native American leaders and tribesmen. He was born in Rhode Island. King painted the subjects in his own studio, with the support of  Thomas McKenney (who served as the United States superintendent of Indian trade and the head of the Bureau of Indian Affairs), This way he easily obtained the consent for the portraits from Native American leaders coming to Washington to do business with the US. King creates collection with more than 143 paintings, done from 1822 to 1842. On January 24, 1865 a fire destroyed the paintings in the gallery, though a few were saved before the flames spread.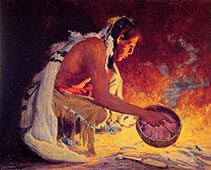 E. IRVING COUSE – was an American artist and a founding member and first president of the Taos Society of Artists. He is noted for paintings of Native Americans, New Mexico, and the American Southwest. He was born to a farming family in Saginaw, Michigan. As a boy, he started drawing members of the Chippewa tribe, who lived nearby. During his time in New Mexico, Couse studied and painted the lives and culture of the Taos Indians, a Pueblo tribe. He began to show his paintings of Native American life and earned his first solo show in 1891. His works won recognition and numerous awards. His works are held in many museums in the United States and around the world.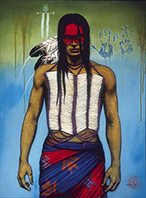 VICTOR CRISOSTOMO GOMEZ – is a contemporary artist from Lima, Peru, and features the people and cultures of his native country in his vibrant and captivating portraits. He is completely self-taught. His emphatic images blend tradition with a contemporary edge. The connection between past and present can normally be difficult. But Victor is Native American of Inca Qechua heritage, so he can synthesize these two extremes very easily. For research and inspiration he travels to the jungles of South America. Victor portrays emotions through intense color and through rendering the men, women and children in his paintings.  The result is that each painting becomes a beautiful exploration into symbolism, cultural heritage and identity of Native Americans. He exhibits in the Gallery Exposures International Fine Art Sedona, Arizona.