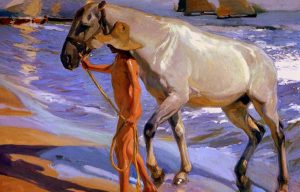 JOAQUIN SOROLLA 1/3 – he was born in 1863 in Valencia, Spain. His style was a variant of Impressionism. His best works painted in open air portray the sunny seacoast of Valencia. He drew his inspiration from the light on the water near his home and his beach scenes are marked by sharp contrasts of light and shade. The appearance of sunlight was the must for him. One of his famous quotes says: "As far as outdoor work is concerned, a studio is only a garage; a place in which to store pictures and repair them, never a place in which to paint them." He continues: "Go to nature with no parti pris. You should not know what your picture is to look like until it is done. Just see the picture that is coming."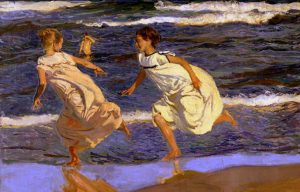 JOAQUIN SOROLLA 2/3 – He was admitted to the Academy of San Carlos in Valencia at age 15. After further studies in Rome and Paris he returned to Valencia. He excelled in the painting of portraits, monumental works of social and historical themes and landscapes. Sorolla's work is represented in many private collections throuh Europe and America. His extraordinary talent was brought to the attention of Antonia Garcia (a famous Valencian photographer), whose daughter, Clotilde, Sorolla got marry later.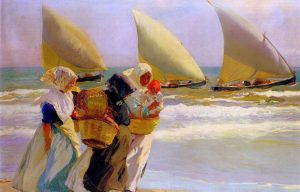 JOAQUIN SOROLLA 3/3 – The warm Mediterranean sun was one of the factors, that had the greatest impact on Sorolla's work (another factor was his visit to Prado Museum). Nature, the sun itself, produces color effects instantaneously. Using heavily impastoed pigments he combined an Impressionist manner with narrative and anecdotal themes.
The exhibition at the Paris Universal Exposition of 1900 brought him nomination of Knight of the Legion of Honor. In 1920, while painting a portrait in his garden in Madrid, he suffered a stroke. He was paralyzed for over three years. He died in 1923, he is buried in the Cementery de Valencia. To know his artworks better, you are invited to visit the town Cercedilla and San Fernando Royal Academy of Fine Arts.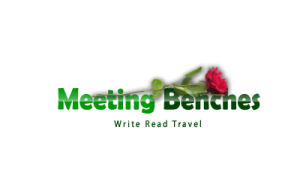 To pursue this issue, you can also read:
http://meetingbenches.com/2017/01/joaquin-sorolla-18631923-spanish-painter-painter-light/