Art of hope and despair.
During Indian-Pakistan partition of 1947, he witnessed a mob stoning a man to death. This left an indelible impression he would later portray on his canvases. He was born on a July day, 1925 in Kapadvanj (Gujarat), but his family moved to Bombay while he was still young. TYEB METHA developed a liking towards art, without imagine what his profession. In 1969, he simply took out a brush and drew a black diagonal line across his canvas, becoming a new idea where diagonal paintings have divided his stories into two parts. He was married to Sakina and the couple was bless with a son and a daughter.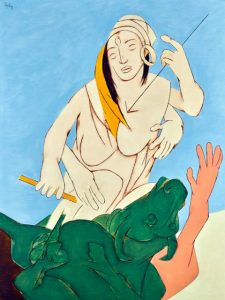 His first solo exhibition of drawings, paintings and sculptures was in Mumbai. He was a recipient of many prestigious awards and some of his works have sold at various auctions for hight prices, but he is remember as one of the priciest Indian artists ever. Credited for triggering an interest towards Indian art, TYEB MEHTA is one of the most famous Indian artists of the post-colonial generation. He was a man of simple tastes and led an uncomplicated life. Today, his work are held in the collections of the Kiran Nadar Museum of Art and the National Gallery of Modern Art in New Delhi.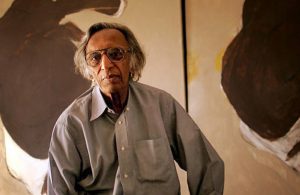 He attended the School of Art in Bombay from 1947 to 1952, becoming part of the Bombay Progressive Artists' Group, embracing Modernism, but TYEB METHA was also know for his signature style. In the year 1954, he went to London, where the works of Francis Bacon influenced him. In 1968, he received a fellowship from, as Americans loved his work.  Returned to India, he started living in Delhi and Santiniketan, returning to Mumbai with all the knowledge that he had gained. He spent most of his life in the suburbs of Mumbai, including his final days. He died on a July 2009, following a heart attack.
The property of the images that appear in this blog correspond to their authors. To broaden your horizon of knowledge about other painters, you can type http://meetingbenches.com/category/paintings/. The sole purpose of this site is to spread the knowledge of these artists and that other people enjoy their works.