Growing into Brotherhood of the Ancients.
All things make Dalston a great place to explore. Looking for fried chicken and cocktail Chick 'n' Sours restaurant http://www.chicknsours.co.uk/ waiting for you at 390 Kingsland Rd. Generally fills up with artsy types on a Friday or Saturday night. In theatre-light east London, situated in the Turkish community in Dalston, the Arcola Theatre https://www.arcolatheatre.com/ remains a bastion of interesting work. Tickets are cheap and bar is a cosy place to sink a pint. Truly, something special, in these places, had led painter to live there for almost all his life.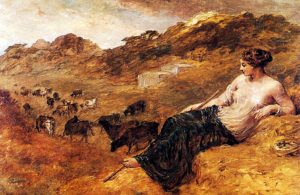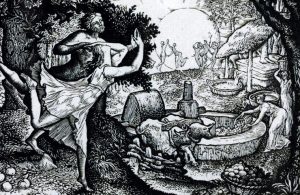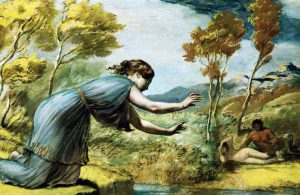 The son of a soldier, he began life in the Navy before the death of a close friend prompted him to follow a career as an artist. Printmaker and painter, EDWARD CALVERT was born in Appledore (Devon), into a September day, 1799. He studied art at Plymouth and the Royal Academy. William Blake inspired his early work. Amongst his finest works, are miniature wood engravings, which date from this early period. The period that followed from 1827 to 1831 (comprising wood and copper engravings and lithographs), is considered to have been his pinnacle,
He was wealthy and had painted mainly for his own pleasure, also inspired by his love of ancient Greece. A friendship had introduce him to Blake's mystic circle of companions. Much of his life was spent with his wife, in Dalston (a short distance from London). His third son was an engraver and painter active in Australia. The British Museum host some 65 of his drawings. Dead in a July day 1883, EDWARD CALVERT and his wife, it was buried at Abney Park Cemetery (Stoke Newington, London).
The property of the images that appear in this blog correspond to their authors. To broaden your horizon of knowledge about other painters, you can type http://meetingbenches.com/category/paintings/. The sole purpose of this site is to spread the knowledge of these artists and that other people enjoy their works.