Silky and luminous brushstrokes, executed with incomparable naturalness.
It nice that you have to follow the "bugs" (painted in the streets), to get to the place. The place and the opportunity to see how prepare the candy. La Dulceria, Calle San Enrique 314 (Cerro Alegre). Simply great! Galeria Espacio Rojo (Miramar 175, Cerro Alegre), is a small gallery in the the colorful hills of the town, where you find large wall pieces or smaller paintings and gifts. Search well, perhaps you will find reproductions of a famous Chilean painter, born right in Valparaiso.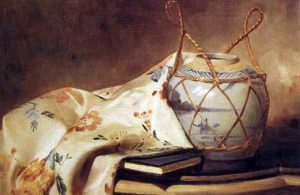 At the age of twelve, he began attending the Academy of Fine Arts. He was one of Chile's best-known painters. Born in Valparaiso into a February day, 1856, ALFREDO VALENZUELA PUELMA showed an interest in art from an early age. In 1881, he gained a scholarship Government to continue his art studies in Paris. More of an influence on his style, it was the Spanish masters that he copied at the Louvre. Upon his return to Chile, he submitted his works in most art galleries in Santiago.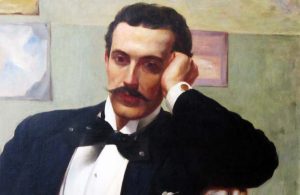 He developed a realistic technique based on the canon of academic art.Throughout his productive career, he painted landscapes, interiors, portraits, still lifes and nudes.  In 1907, he made his final trip to France, never returning to Chile. ALFREDO VALENZUELA PUELMA was suffering from mental illness, until his death into a October day, 1909. His remains it was repatriated to Chile, honored in the National Museum of Fine Arts. Among his best works, "The Merchant's Pearl", one of the most popular paintings in the Chilean art world.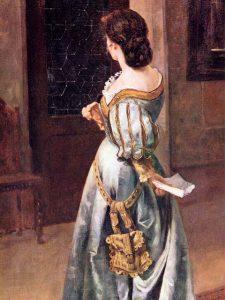 During the last decade of the nineteenth century, ALFREDO VALENZUELA PUELMA lived in Valparaíso, where he worked as a director of art exhibitions. One of his paintings of 1890, "Sevillana" (oil on canvas, 85 x 62 cm), as well as "My son Rafael" (oil on canvas of 1899, 46 x 34 cm), await you in the National Museum of Fine Arts http://mnba.gob.cl/sitio/ of Santiago de Chile. His "Portrait of Enrique del Campo" (oil on canvas, 1894), is housed in the Civic Museum of Fine Arts of Valparaiso.
The property of the images that appear in this blog correspond to their authors. The sole purpose of this site is to spread the knowledge of these artists and that other people enjoy their works. To pursue this issue, you can digit: http://www.valparaisoexperience.com/tag/fine-arts/