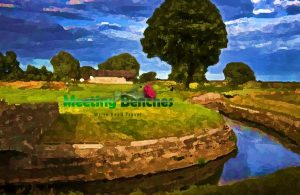 Carnoustie is a really special North Sea town (Central-Eastern Scotland), https://www.visitscotland.com/info/towns-villages/carnoustie-p241441 located along the estuary of Barry Burn. We took a break at the Carnoustie Golf Course Hotel with nice clean room, good pool Jacuzzi, great breakfast and friendly staff.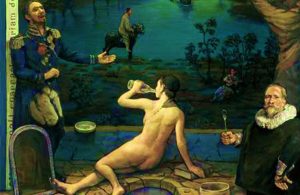 This resort is famous for its golf courses, but also because here lives and works painter ALAN MACDONALD, whose work is always recognizable, for his special mix of ancient technique and modernity.
From Carnoustie – 290 miles (467 km) in 6 hours drive our journey will lead us to Scarborough http://www.discoveryorkshirecoast.com/scarborough/ to a very original seaside resort with stunning landscapes and beautiful beaches, place where tourists flock for nearly 400 years. Here was born the venerable poet EDITH SITWELL, but to admire her picture, you have to go to the National Portrait Gallery in London, where people stare in front her puddled aquamarine with astonished eyes.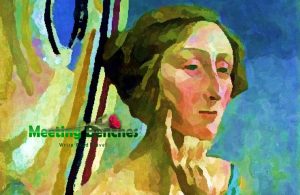 Next part of our trip – 166 miles (267 miles) in 3 hours and a half – will lead us to Birkenhead, town on the Wirral Peninsula (on the west bank of the Mersey River, opposite Liverpool), birthplace of painter PHILIP WILSON STEER.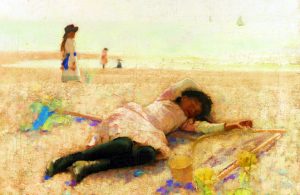 With his stunning landscapes paintings, he had become one of the most beloved and admired artists in Britain. You can admire them in the London Tate Gallery http://www.tate.org.uk/
From Birkenhead – miles 258 (415km) in 4 hours and a half drive we arrive to East Bergholt http://eastbergholt-bells.org.uk/ a picturesque village on the north bank of the Stour River (in the (heart of Constable Country), the residence of the Constable family, where the romantic painter JOHN CONSTABLE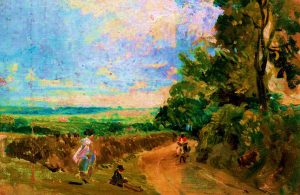 had grown up in a house, just a few hundred meters from the church of St. Mary. If you want to watch his paintings, stop in Victoria & Albert Museum in London, https://www.vam.ac.uk/ , museum with largest pictorial collection.
80 miles (129km) in 2 hours, we come to Stoke Newington, a neighborhood of the London borough of Hackney (8km northeast of Charing Cross). Despite the many changes, its urban core has maintained the appearance of a village.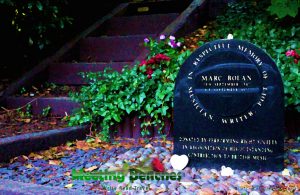 Here was born MARC BOLAN (art name Mark Feld), a songwriter https://www.youtube.com/watch?v=TVEhDrJzM8E but also a frontman of the Tyrannosaurus rock band, who died in a road accident in 1977. We will arrive in central London after just 4 miles (6 km) in 20 minutes drive.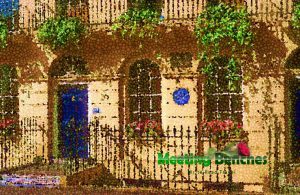 The writer VIRGINIA WOOLF was born here in a house at 22 Hyde Park Gate in 1882. Her novel "To the lighthouse" named it No. 15 on its list of the 100 best English-language novels of the 20th century. And in 2005, the novel was chosen by Time magazine as one of the one hundred best English-language novels since 1923.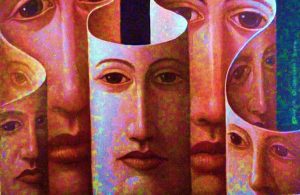 From central London to Bromley – 13 miles (21 miles) in 50 minutes drive – we can discover where, GEORGE UNDERWOOD, painter and musician was born. His creativity is known by numerous music bands during the seventies, for the design of album covers. As you can perceive by observing his paintings, there is a strange atmosphere of isolation surrounding the colorful fruits of his creativity, creations that seem to float in a sea of silence.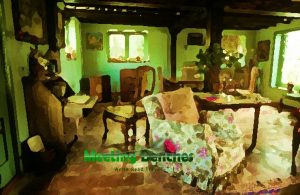 On your trip across Cornwall, remember to stop at Rodmell – 56 miles (90 km) in 1 hour and thirty minutes drive – where Virginia Wolf died in 1941. From Rodmell to St. Ives, https://www.Visitcornwall.com/places/st-ives after 320 miles (515 km) and 6 hours drive, we get to know a special place – apparently subtropical oasis where the beaches are golden, the vegetation is lush and the light is brilliant,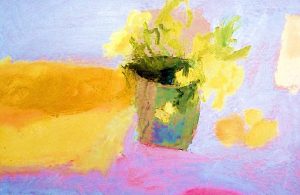 where painter ALICE MUMFORD lives and works. Https://www.youtube.com/watch?v=69OGf3GXoas The objects she paints are prosaic and dramatic and seem to envelop humans and their daily lives.
Finally after approximate ly 1,300 miles (2,100 km) in 22 hours of drive, we reach Cornwall, https://www.visitcornwall.com/ where creativity have led and continue to bring a lot of human beings. We wish you great Author's travel in Britain.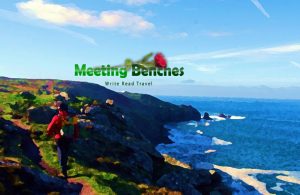 The intellectual property of the images that appear in this blog correspond to their authors. The sole purpose of this site, is to spread the knowledge of these artists and that other people enjoy their works. To pursue this issue, you can digit: http://meetingbenches.com/2017/07/discovering-creativity-images-beyond-canal/