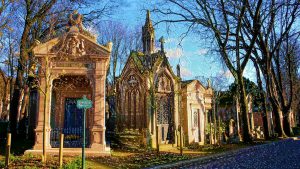 You need to spend at least a week on this trip. You will need to use the car for at least 15 hours, but you will not be disappointed. https://www.amazon.com/Lonely-Planet-France-Travel-Guide/dp/1786573253/ref=pd_lpo_sbs_14_img_0?_encoding=UTF8&psc=1&refRID=4833MHKFBDK8JDVJDB6F Four masters of French painting are waiting for you in art museums, in small and big cities and also in a cemetery, to tell extraordinary stories of their pictorial creativity. Following 1520-km route, Albert Gleizes, Raoul Dufy, Eugene Boudin and Enri Rousseau accompany you on your special trip, which begins in Paris and ends at Saint-Rémy-de-Provence (crossing Le Havre, Honfleur and Deauville, Laval, Lyon and Avignon) and let you know about Cubism, Fauvism and Impressionism.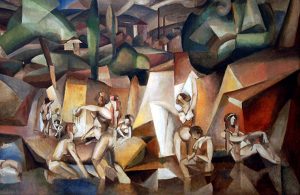 ALBERT GLEIZES – Cubist painter, who advocated the multiplicity of pictorial points of view was born in Paris, loved Avignon and Saint-Rémy-de-Provence. On the way, you can admire some of his paintings in Musée des Beaux-Arts in Lyon (Market Day) and in the Estrine Museum in Saint-Rémy-de-Provence. Your Parisian stay deserves at least two days to visit the Museum of Modern Art de la Ville http://www.mam.paris.fr/en (where Dufy's "The White Knight" awaits you). You can also visit the Musée d'Orsay http://www.musee-orsay.fr/it/accoglienza.html to be able to see Rousseau's "Sperm Snake", without to forget the Musée Marmottan Monet http://www.Marmottan.fr/uk/ to appreciate the creativity of Boudin. Before leaving for the Havre, stop at the Bagneux Cemetery. It's time to read, what Guillaume Apollinaire had written on Rousseau's grave.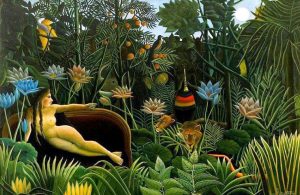 RAOUL DUFY – The Fauvist painter, who preferred wide brush strokes and bright colors was born in Le Havre, the city where you came from Paris (200 km, about three hours drive). EUGENE LOUIS BOUDIN – Thinking of him, you can look at the coastal landscapes of northern France full of clouds and shades of blue, these he painted with brilliance of colors and well proportioned details. The same sky you can see in Honfleur and Deauville (50 km from Le Havre) after one hour drive.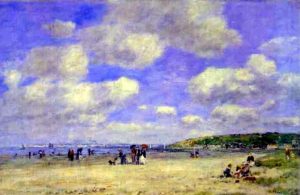 HENRI JULIEN ROUSSEAU – Two and half hours, this is all you have to devote to arrive with your car to the Alpha and Omega of painting: Laval, city located in the Loire Valley, 250 km from Deauville. Your journey continues to Lyon (700 km, six hours drive), where you can visit the Musée des Beaux-Arts http://www.mba-lyon.fr/mba/sections/languages/english/museum/welcome-Museum-lyon to admire a masterpiece of Gleizes (Market Day), small oil painting on canvas. After 230 km (and about three hours drive) you will finally be in Avignon, but the last effort (25 km and 30 minutes of your time) is waiting for you to reach your final destination http://musee-estrine.fr/ Saint-Rémy-de-Provence and its splendid Estrine Museum.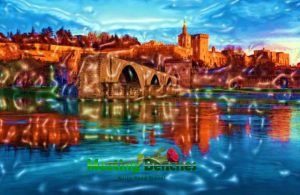 The intellectual property of the images that appear in this blog correspond to their authors. The sole purpose of this site, is to spread the knowledge of these painters and that other people enjoy their works. To pursue this issue, you can digit: http://meetingbenches.com/2017/05/french-arts-landscapeses-paris-saint-remy-de-provence-following-real-art-itinerary/