VIVID COLOURS, BRIGHTLY BACHGROUNDS AND SENSE OF JOIE DE VIVRE – Raoul Dufy and the decorative scenes of luxury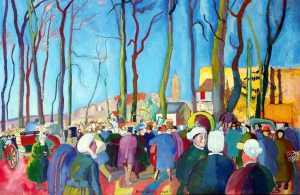 RAOUL DUFY 1/3 – He was born in Le Havre in 1877, becoming painter noted for his brightly coloured and decorative scenes of luxury. In 1900 he went to Paris to attend the École des Beaux-Arts, painting in Impressionist style in his early work. During time, he had begun to employ typical expressive instruments of the Fauve artists: broad brushstrokes and bright colours, but he was also a successful artist in other media (such as designs for a textile company and designed ceramics and tapestries). With a decorative aesthetic, his interpretation of Fauvism had married the movement's avant-garde principles.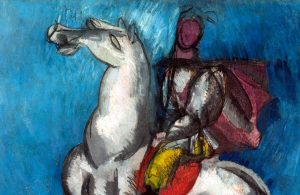 RAOUL DUFY 2/3 – He had his first exhibition at the Salon des Indépendants in 1903 and in the early 1920s his distinctive style was characterized by bright colours (thinly spread over a white ground), with delineated objects by sensuously undulating lines. For him, the blue was the only color which maintains its own character in all its tones. He wanted to do what he liked, and for that he accepted the offer of the fashion designer to make fabric designs.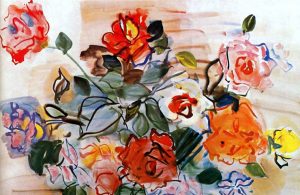 RAOUL DUFY 3/3 – He remained faithful to his blue studio, the racecourses and regattas, but also to the nudes and the beach scenes. In 1935, he began to explore the use oil paints (specially prepared by a chemist), which reproduced the lightness of the watercolours. At the end of his life, he developed a greater austerity, where his playfulness has melted inside a new intensity. His Expressionist paintings can be seen in many best art museums throughout the world. You can admire on of his masterpieces "Le Cavalier blanc" (oil on canvas, 66 x 81 cm), at the Musée d'Art Moderne de la Ville de Paris http://www.mam.paris.fr/en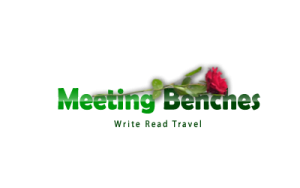 The intellectual property of the images that appear in this blog correspond to their authors. The sole purpose of this site, is to spread the knowledge of these painters and that other people enjoy their works.