In April 1483, the prior of a Milanese Confraternity signed a contract for an altarpiece. It was the first commission obtained by a young artist, who came from Florence to the city. The agreement which Leonardo da Vinci had agreed to undertake, provided a triptych: in the central altarpiece, Our Lady and the encounter between Jesus and the small Giovanni, and painted angels, which should be painted in the two side blades. To see the angels (painted by Ambrogio de Predis), you can visit the National Gallery in London https://www.nationalgallery.org.uk/. To admire the Virgin of the Rocks (an oil painting of 199×122 cm) with your own eyes, you are invited to visit the Musée du Louvre in Paris http://www.louvre.fr/en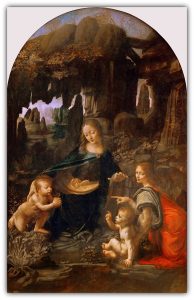 Leonardo da Vinci changed the central subject of the triptych, but the Milanese Confraternity confronted him with the painting as a heretic. The ancient legal affair was closed in 1506 and the work was declared incomplete. Meanwhile the painter was back in Florence, generating a second version of the triptych (on view in the National Gallery in London). https://www.youtube.com/watch?v=94xKRkCHlv0 Over the centuries this painting has had countless copies, created by Italian and foreign artists.
Looking at the first version of the painting, you will see, the Virgin of the Rocks is inserted in a rocky landscape with flowers and aquatic plants. At the center the Virgin Mary extends her right hand to protect the small St. John. Baby Jesus is rather lower down, on the right and behind him is an angel. Two chambers open in the background (with groups of rocks, which fade in the mist). https://www.youtube.com/watch?v=7lovYc6OxaM Recently, an Italian researcher has established the presence of a dog with leash (the symbol of man, who must obey God) just below the forest overlooking those human figures.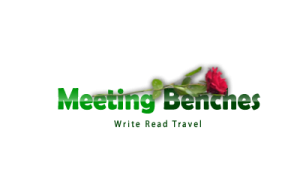 The intellectual property of the images that appear in this blog correspond to their authors. The sole purpose of this site, is to spread the knowledge of these painters and that other people enjoy their works. To pursue this issue, you can digit: http://meetingbenches.com/2016/05/masterpieces-of-art-in-the-centuries-parigi-leonardo-da-vinci-la-gioconda/ http://meetingbenches.com/2016/05/masterpieces-of-art-in-the-centuries-milan-leonardo-da-vinci-the-last-supper/