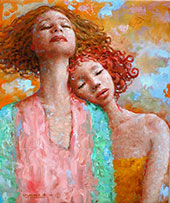 HUGO URLACHER 1/5 – he was in 1958 in Buenos Aires,Argentina,  as a descendant of German and Spanish immigrants and still lives there. He began to paint in 1982, 24 years old. He was self-taught painter, searching for his own way of "being artist" for long time. It seems he has inherited the character of three cultures: the depth of Argentine emotionality; the German discipline and the Spanish stubbornness.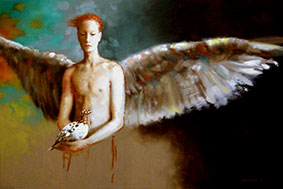 HUGO URLACHER 2/5 – His personal work focuses exclusively on the human figure, especially the human face. His inspiration is the human being and what he means to express is the triumph of transcendence over mediocrity and ignorance of the tradition that only knows of power, material appearance and death. He speaks about "Chrysalis", figures in a state of transformation that are derived from the past and from the influence of the traditions to reach their own form, real and legitimate. Through this metamorphosis they become themselves, their own vocation, perfect and free, "Imaginary Chrysalis."
HUGO URLACHER 3/5 – He follows his classic aesthetic roots, with great influence from the impressionist realism. The artists that have had the greatest influence in his works are: Degas, Vermeer, Rembrandt, and above all, Diego Velazquez. He also ventured into the Sacred Art field by painting altar pieces and his sacred paintings adorn walls of several churches in Buenos Aires.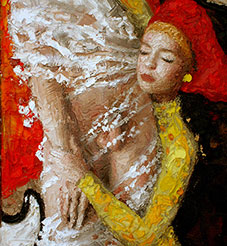 HUGO URLACHER 4/ 5 – He is also stained glass painter for Art Glass USA, working with master stained glass artist Francisco Javier Da Silva Goncalves, creating artistic designs of all kinds for over 27 years. Urlacher is also an expert engraver of plates for paper money,  and an apprentice of the master Italian engraver Trento Cioninni, author of the five portraits in the current series of argentine paper money. Urlacher engraved plates for Argentine currency, as well as plates for the currency of Paraguay, the Republic of Guinea, and Angola, among others.
HUGO URLACHER  5/5 – Artist statement: "The theme of vocation is fundamental in the theme of my work and in my life, because I believe that each person must develop his vocation and not betray it, vocation is a vital mission … In my case it is "being a painter", so I feel that art and life in general must be taken."
To follow Hugo Urlacher's artworks, visit the gallery of paintings here: http://meetingbenches.com/2017/01/hugo-urlacher-1958-argentinian-painter-engraver-stained-glass-artist-imaginary-chrysalis/