When sunlight becomes an additional color
Four days after his death, he was awarded at the Cultural Center of the Philippines. In his paintings, you can easily grasp the presence of figures outlined against a bright light. Considered together with Juan Luna and Fernando Zóbel among the protagonists of the Philippine pictorial scene, the portraitist and painter of rural landscapes Fernando Amorsolo https://www.mutualart.com/Artist/Fernando-Amorsolo/86C7AA69A157C793 was particularly appreciated for his mastery in the use of light and shadow. Born in Manila in the spring of 1892, he finished his studies there at the Liceo de Manila Art School. He loved to draw his sketches not only at home and in the countryside, but even at the Luneta Park, enriching them with all those he saw around him. Visiting Manila, not forget Jorge B. Vargas Museum and Filipiniana Research Center https://vargasmuseum.org/, it displays a major collection of his works.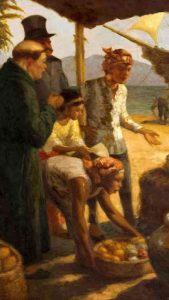 One of his famous paintings was Leyendo el periodic, which won second place in a competition organized by the Asociacion Internacional de Artistas. It is no coincidence, in fact, that legend has it that he painted only one rainy day during his entire life. Its great notoriety gained strength thanks to the exceptional brightness of its landscapes enriched by traditional Filipino festivals and occupations. During his youth Fernando Amorsolo https://www.famouspainters.net/fernando-amorsolo/ traveled abroad and learned techniques and artistic styles that accompanied him to the motherland, where he created countless paintings that could help represent it visually. Educated in the classical tradition, he focuses all his creative attention on the definition of a human form with a very strong Filipino connotation. In 2003, his children created a foundation dedicated to preserving his artistic legacy.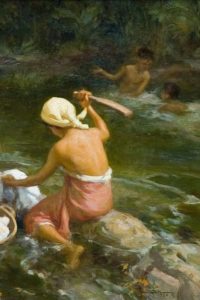 After centuries of foreign pictorial dominance, the works of Fernando Amorsolo http://www.philippineartgallery.com/fernando-amorsolo.html gradually became an indispensable point of reference for generations of Filipino painters. In the 1920s and 1930s he opened his own painting studio, quickly gaining fame for his portraits, rural scene paintings and drawings. His paintings were extremely important for the artistic focus of a collective identity on the entire Philippine archipelago. In his paintings of Filipino women, you certainly don't find Western ideals of beauty, but faces of unknown Filipinos and even those of his family. His impressionistic tendencies, perfectly delineated also in his paintings, are identifiable in figures that are not completely finished but only sketched.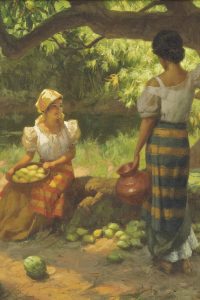 In his paintings he used natural light, also developing the mastery of backlight and chiaroscuro. In addition to well-marked noses, as well as clear and fresh complexions, the women he painted had rounded faces and very lively eyes. During his life and until his death in the spring of 1972, Fernando Amorsolo https://ncca.gov.ph/about-culture-and-arts/culture-profile/national-artists-of-the-philippines/fernando-amorsolo/ made an average of a dozen paintings a month. Some accused him of mercantilism for producing too many serial paintings for Americans, others said of him that his paintings had nothing to say. However, his supporters consider that he painted represents the perfect reflection of the Filipino soul. Briefly, we could keep the memory of ten thousand works of him, a great talent and small landscapes full of joy.
To broaden your horizon of knowledge about other painters, you can type http://meetingbenches.com/category/paintings/. The sole purpose of this site is to spread the knowledge of these artists and that other people enjoy their works. The property of the images that appear in this blog correspond to their authors.