Singing love for creativity of Native North Americans
His awards and accolades include twice the nomination of Best Canadian Journalist of the Year, as well as an honorary degree from Queen's University. Born in Amherstview in 1964 and raised in Kingston, Ontario, Gordon Downie https://www.facebook.com/GordDownie/ was the son of a traveling salesman. In the Kingston Collegiate and Vocational Institute, he became frontman of the band Slinks, after high school he graduated in film studies from Queen's University. Attracted by the style of the Yardbirds and Stones, and associated with other members, in 1984 he formed Tragically Hip, a band that played British rock songs from the 1960s.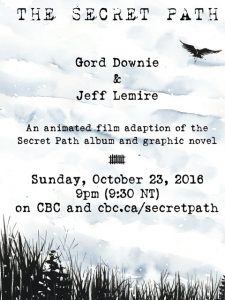 Gordon Downie has released seven solo albums, two of which are posthumous, but what we propose is the one published in 2016, Secret Path https://secretpath.ca/, a multimedia storytelling project that include ten songs and a tour, a graphic novel, as well as a film of ' animation supplemented by various didactic material. Central to the project was Chanie Wenjack, an Anishinaabe boy on the run from an Indian residential school. All proceeds from the Secret Path album were donate to the National Center for Truth and Reconciliation of the University of Manitoba. Among the tracks, we want to remind you of the lyrics of the sixth song, Secret Path. https://www.youtube.com/watch?v=qPv0oSXy7bQ&list=OLAK5uy_l4yO02DbQof86MIRqvpON8vlSJ42Sa_30&index=6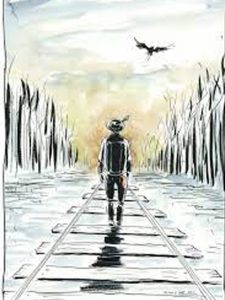 SECRET PATH – Freezin' rain and ice pellets walking home. I am cover in it walking home all along the tracks Secret path. Did you say Secret path? Pale blue does not do what they said it would do. It is just a jacket. It is a windbreaker. It is not a jean jacket. They call it a windbreaker. Walking home all along the tracks Secret path he said, "Secret path" I am soaked to the skin. There has never been a colder rain than this one I am in pale blue. Does not do what they said it would do. It is not my jacket. It is a windbreaker. It is not my jean jacket. It is just a windbreaker. Fuck off rocks along the tracks Secret path. There is no secret path, and the freezing rain, and the ice pellets coat the rail. Therefore, I cannot even tightrope it.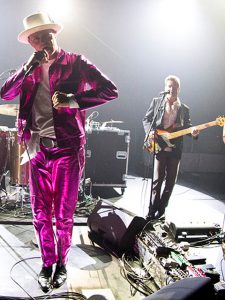 In 2001, pursuing a solo career,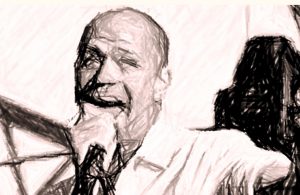 Gordon Downie https://www.macleans.ca/gord-downie-obituary/ created Coke Machine Glow, publishing it along with his own collection of poetry and prose. In 2003, he released his second solo album, Battle of the Nudes, while his third – The Grand Bounce – came in 2010. In addition to his solo work, he collaborated with other fellow artists, even making a cameo appearance in a 2008 independent drama film. Shocked by the themes they sang, in 2014 he released an album with the Sadies, claiming that working with them was a completely different universe. On the stage at Massey Hall, his last public appearance before his death, he joined the Blue Rodeo in 2017.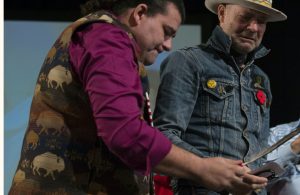 Along with his bandmates, he was name a member of the Order of Canada for his contribution to Canadian music and support for social and environmental causes. Gord Downie https://thehip.com/ got involved in water rights issues, helped work on a lawsuit to stop a cement company from burning tires for fuel. He was also part of a project that unites artists and environmentalists in a music club to raise money for Waterkeeper organizations. In Northern Ontario, with a focus on learning Cree youth in the contemporary world, he played with Tragically Hip at the Great Moon Gathering, an educational conference along the James Bay coast.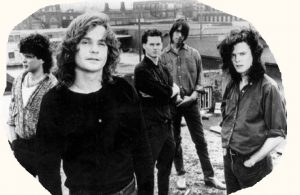 With the release of his Coke Machine Glow, he shook off rock 'n' roll to become a poet and writer, as well as a musician and book publisher. Gordon Downie https://thehockeywriters.com/gord-downie-hockey-and-the-tragically-hip/ advocated for reconciliation between indigenous and non-indigenous peoples. Therefore, in 2016 he associated himself with the birth of the Chanie Wenjack Fund, an association dedicated to the memory of Chanie Wenjack, an indigenous boy who died trying to escape from a residential school. For his support of the indigenous peoples of Canada, the national head of the First Nations Assembly honored him not only with an eagle feather, but also with the aboriginal name of Wicapi Omani, man who walks among the stars.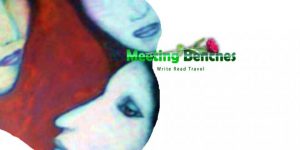 If you want to get to know international music scene, you can type http://meetingbenches.com/category/music/. The property of the images that appear in this blog correspond to their authors. The sole purpose of this site is to spread the knowledge of these artists and that other people enjoy their works.