Happiness, I know you exist and are no futile dream.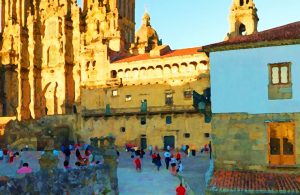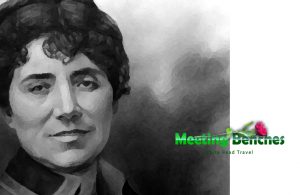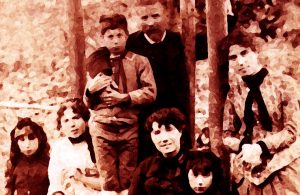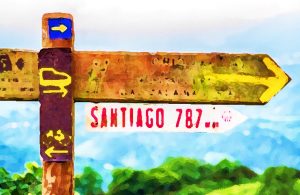 In the north-west of Spain, Santiago de Compostela is famous for being the final destination of the path of Santiago https://www.caminodesantiago.gal/en/inicio, it preserves a cathedral from 1211, whose facade decorated with stone statues opens towards a large square enclosed by the walls of the old city. The French and Spanish roads that make up the itinerary (800 km for the duration of 1 month), have been declared World Heritage by UNESCO. One of the most luxurious and beautiful hotels in the Paradores chain is this city, the destination of millions of pilgrims.The Parador de Santiago https://www.parador.es/en/paradores/parador-de-santiago-de-compostela, is a blend of history art and tradition, located near the cathedral. Here, a special woman rediscovered the Galician language.
Most of her creative vein has been devoted to romantic narrations in the Castilian language. She led a life ravaged by illness and psychological problems. In 1837, she was registered as a daughter of strangers at the registry office of Santiago de Compostela. In 1858, ROSALIA DE CASTRO married the journalist Manuel Murguía, editor of the books written by his wife. She manifested the fear of death and the ineluctable destiny with the publication of three books of poetry, rediscovering the Galician language. She died in 1885. https://www.amazon.com/gp/product/B00ATFPQ32/ref=dbs_a_def_rwt_bibl_vppi_i4
BLACK SHADOW – When I think that you have parted, black shadow that overshades me at the foot of my head pillows you return making fun of me. When I fancy that you have gone, from the very sun, you taunt me, you are the star that shines, and you are the wind that moans. If there is singing, it is you who sings, if there is weeping it's you who weeps, and you are the river's rumour, and the night and the dawn. Everywhere you are in everything, for and within me you live nor will you ever leave me, shadow that always shades me.
To get to know other writers, you can type http://meetingbenches.com/category/library/. For shades of poetry around the world, you can type http://meetingbenches.com/category/poetry/. The sole purpose of this site is to spread the knowledge of these artists and that other people enjoy their works. The property of the images that appear in this blog correspond to their authors.