Travelling abroad with many influences, playing in his own works.
His works are included in many collections (such as the Tate Gallery in London, the National Galleries of Scotland in Edinburgh, and the Art Institute of Chicago). His first solo show was at the Leicester Galleries in 1929. He had showed with the English Surrealists later in the 1930s. He studied at Chelsea School and at the Royal College of Art, under drawing tutors, becoming a painter, best known for his depictions of the urban underworld. EDWARD BURRA was born in South Kensington (London, England), on March day, 1905. The Tate Gallery held a retrospective of his work in 1973. He died in Hastings in 1976, and Tate Gallery Archive holds materials relating to Burra.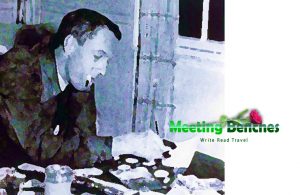 His creative world https://www.youtube.com/watch?v=u1azaDWKxhc ? It is a world of men and their affairs. Initially, EDWARD BURRA had painted in oil, but his arthritis had force him paint in watercolour. Later in life, he turned his attention to landscape and still life paintings, but it was urban life (in particular the colourful and sinister characters that populated it), one of his main areas of interest. Starting in the bottom right hand corner of the paper working his way up to the top, he draw the outline of his subjects, filling in the outline with colour. Painting he accepts the grimmer aspects of the world around him. At sixty he was one of that Surrealist group, which became a force in British art, in the middle 1930s.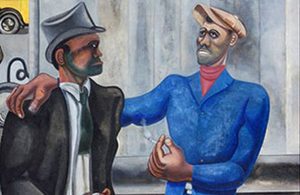 The property of the images that appear in this blog correspond to their authors. The sole purpose of this site is to spread the knowledge of these artists and that other people enjoy their works. To pursue this issue, you can digit: https://www.youtube.com/watch?v=BDmkfTl9m9w