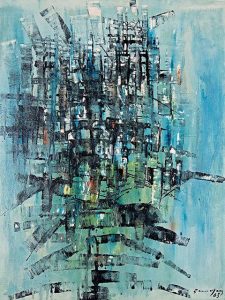 LYRICAL ABSTRACTION IN PAINTINGS
ANTONIO BANDEIRA 1/3 – He was born in Ceará (Fortaleza) in 1922 and became famous visual artist. He is considered one of the ten great Brazilian painters, certainly the greatest of his generation. He has had several exhibitions, galleries and museums (including the Museu de Arte Contemporânea from the Universidade de Sao Paulo. In 2011 his work was sold at auction by Christie's (New York) for $ 482,500. In the first half of the forties, he was very active in the introduction of modernist ideas. In 1945 he moved to Rio de Janeiro and in 1946 (at the age of 23) he went to Paris (encouraged by a Frenchman in the French Embassy in Fortaleza), where he studied at the Ecole Supérieure de Beaux-Arts.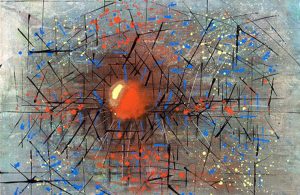 ANTONIO BANDEIRA 2/3 – In Paris, where he spent the rest of his life, he loved painting landscapes and portraits. At the beginning of his stay in France, he had been part of an association of artists sharing a similar artistic language. In 1958 he made a panel for the Palais des Beaux-Arts in Brussels. Later he adopted a creative abstraction, which maintained ties with the outside world through poetic analogies. In one of his visits to Brazil, he had executed a mural for the headquarters of the dos Arquittos do Brasil Institute in Sao Paulo.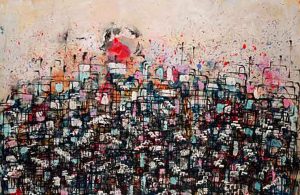 ANTONIO BANDEIRA 3/3 – How did he work? "Never start paint paintings". Try to paint by creating a frame, which is always a sequence of frames, that are already prepared in your mind when you begin to do at a particular time. Like Van Gogh, his experiences consisted of applying the colors (strong and fast) directly on canvas where reds, yellows, greens anticipated the modern taste for pure color. The artist died in Paris on October 1967. Http://www.invaluable.com/artist/bandeira-antonio-ih82weqxuf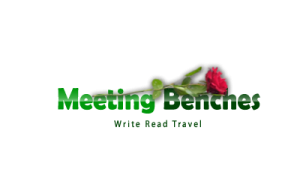 The intellectual property of the images that appear in this blog correspond to their authors. The sole purpose of this site, is to spread the knowledge of these painters and that other people enjoy their works. To pursue this issue, you can digit: http://meetingbenches.com/2017/06/brazilian-art-trip-musical-schades-novel-five-pictoryal-style-hildas-poems/