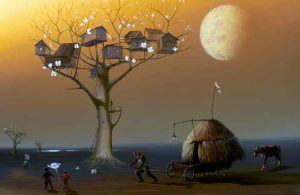 VICTOR BREGEDA 1/3 – He is an Russian painter working in the surrealism and metarealism styles. He was born in the Russian city of Taganrog into a family of painters. http://bregeda.com/ After attending art school in Russia, Bregeda developed his personal interpretation of creative art, that put himself in sharp contrast with his academic art training. He was attracted by Dutch school of painting and most inspired by Leonardo da Vinci and Pieter Brueghel the Elder, Max Ernst and Nicholas Roerich. He has stated, that he has been painting for as long as he can remember. Inside his meta-realism you can discover Russian offshoot of surrealism with respect to the imaginative visual style.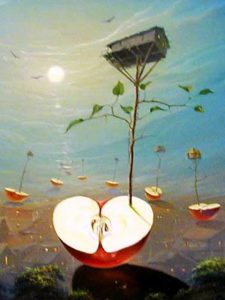 VICTOR BREGEDA 2/3 – He likes to paint in metarealistic style with strong roots in subconscious philosophy. https://www.youtube.com/watch?v=7GvNVnRixTo In early 2000, his career took a new turn, when he was invited to promote his work in the U.S., where his first art show became an instant success. His key directions? Working en plein air landscapes. He uses mélange of techniques, materials and styles and always tries to invent new ones. He has been compared to some masters of the Surrealistic Genre. He has been particularly recognized for his contribution to contemporary Christian art.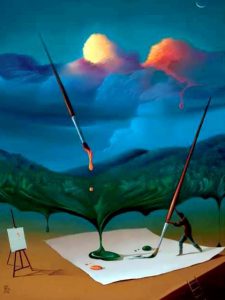 VICTOR BREGEDA 3/3 – His artistic abilities are in his blood, thanks to his forefathers he grew up in a creative environment. He is known for his artistic visions of love and romance. Some of his famous collectors include Carlos Santana, Pink Floyd and Sheryl Crow. https://vimeo.com/26493479 Each artwork is a philosophical journey, that combines hidden clues and multiple storylines. Observing his works, you can discover, that some paintings appear as riddles with concealed imagery, which take observers on a quest to solve them.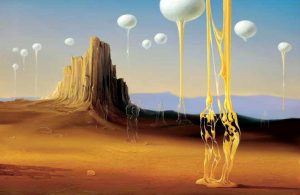 The intellectual property of the images that appear in this blog correspond to their authors. The sole purpose of this site, is to spread the knowledge of these painters and that other people enjoy their works.
To pursue this issue, you can digit: http://meetingbenches.com/2017/05/victor-bregeda-1963-russian-painter-meta-realism-important-experience-magnetism-light/