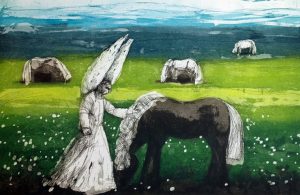 KAROLINA LARUSDOTTIR 1/3 – She was born in Reykjavik in 1944 and lived and worked in the British Isles (from the mid sixties for nearly fifty years). Now she lives again in her homeland of Iceland. Many of her contemporary paintings are rooted to her upbringing in Iceland. She remembers the Iceland of her childhood, as a country barely touched by the modern world. She paints women in colourful dresses (but there are also dark-suited men, who look with an unearthly calm).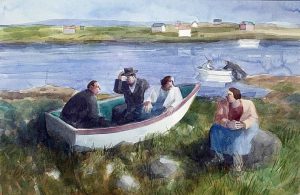 KAROLINA LARUSDOTTIR 2/3 – She studied contemporary art (at Sir John Cass College, London), the Ruskin School of Art in Oxford, and Barking College of Art. Her Grandfather was the owner of the first grand hotel in Reykjavik. Many of the images are inspired from this busy environment, scenes of chambermaids, chefs and waitresses in the kitchens or observations of guests. In some paintings she creates a world of her own (with imaginary people in strange situations). In many of her works appear angels, which play a large part in the scheme of things. Often her contemporary paintings contain a wry humour. Her work is featured in numerous private and public collections world-wide.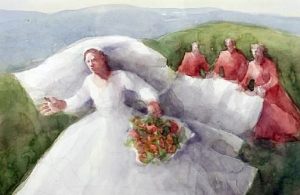 KAROLINA LARUSDOTTIR 3/3 – Her vision of her homeland and England have won her deservedly high reputation in the fields of British painting. Her successes include many solo and mixed art shows in the most prestigious exhibitions of modern art. The Royal Academy used her paintings to advertise the Summer exhibition. Her biography was published in Iceland in 1993.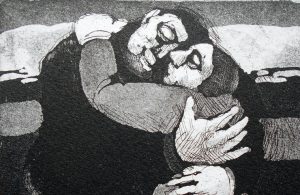 The intellectual property of the images that appear in this blog correspond to their authors. The sole purpose of this site, is to spread the knowledge of these painters and that other people enjoy their works.
To pursue this issue, you can digit: http://meetingbenches.com/2017/03/karolina-larusdottir-icelandic-painter-painting-imaginary-people-strange-situations/