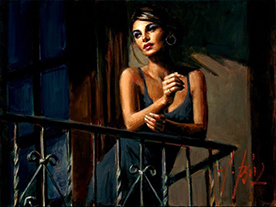 FABIAN PEREZ 1/4 – He was born in 1967 and raised in Campana, not far from Buenos Aires, the capital city. rom the age of nine, he started expressing himself through visual arts – drawing remarkably advanced sketches and portraits of his friends and family. Fabian's early years were extraordinarily difficult and painful, spent in the company of intensely conflicted characters, underground world in the city, women of the night, because his hather owned a number of bordelloes, as well as other clubs and was frequently chased and closed down by the police.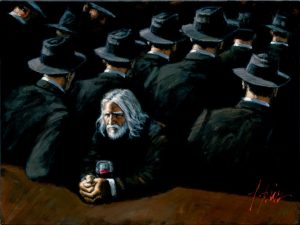 FABIAN PEREZ 2/4  – At the age of sixteen, Fabian was faced with the loss of his mother and 3 years later the loss of his father. The sadness and despair he experienced, left him confused and searching for answers. In 1984 had crossed his path the greatest inspiration of his life – Sensei Oscar – who later became his teacher, master, close friend and father figure. At the age of twentytwo, Fabian decided to leave Argentina, spending six months in Rio de Janeiro, living almost nomadic life. Then he moved to Padova, in Italy, where passion is similar and important part of life commonly expressed through the arts as in his homeland. His work began taking on more depth. The stay inspired him to write Reflections of a Dream, a book, which he later published in US.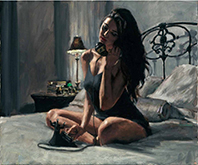 FABIAN PEREZ 3/4 – After seven years in the Mediterranean, Fabian travelled to Okinawa in Japan, absorbing the delicate nuances of eastern influence into his psyche for over a year, and being heavily influenced by the energy and dramatic strokes of the Shodo painting technique – before settling back in Los Angeles, where he resides with his wife and daughter. Fabian's unique style of painting – which he calls 'Emotionalism' – uses colors, highlights, and shadows to express passionate feelings which are mined from the deep well of memory.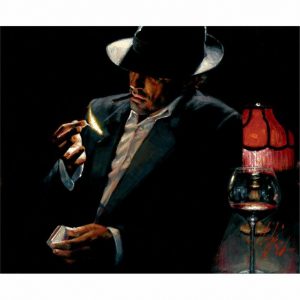 FABIAN PEREZ 4/4 – In 2001 two art publishers and gallery owners saw and fell in love with an exhibition of Fabian's work. The collaboration brought an overwhelming success. The demand for his work exploded. Fabian's international status was confirmed with his appointment as the official artist to the 2010 Latin Grammy Awards, and as one of the official artists for both the 2010 Winter Olympics in Vancouver and the London 2012 Olympics.
Visit the gallery of paintings here : http://meetingbenches.com/2017/03/fabian-perez-argentinian-painter/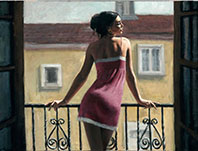 Note: The intellectual property of the images that appear in this blog correspond to their authors and to those who have given them. The sole purpose of this site is to spread the knowledge of these painters and that other people enjoy their works.