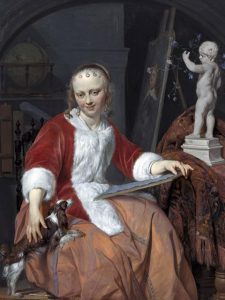 GABRIEL METSU 1/3 – He was the son of a tapestry worker and painter, who lived most of his days at Leiden. He was taught by Gerard Dou. He began placing his figures in domestic interiors. Old people were among Metsu's favorite thematic and at least thirteen of his paintings show carpets. He also often painted young (single) women, who either feed pets or sold goods at market. https://www.youtube.com/watch?v=4Q_WWMk2Elg
He was an eclectic artist, who did not adhere to a consistent style for long periods. In 1648, he was registered among the painters' guild at Leiden. In his day, he was well-loved in Europe, there were 400 years for his paintings to get new attention.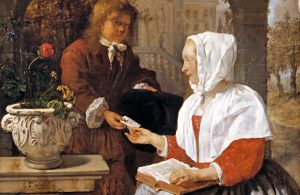 GABRIEL METSU 2/3 – Around 1655, he moved to Amsterdam His technique evolved, comparing his Leiden works to the meticulous manner of his Amsterdam's years. He absorbed different influences, which he synthesizes into a manner of painting of extremely high quality. https://www.youtube.com/watch?v=-DucbPE4kS0 Only 14 of his 133 works are dated. Because his work is rarely dated, his relationships with other artists are difficult to trace.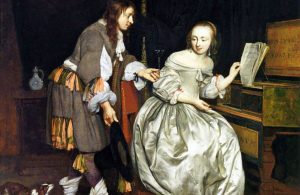 GABRIEL METSU 3/3 – In 1664, he painted one of his most important crowd pleasers: A Man Writing a Letter. https://www.youtube.com/watch?v=ucp-KM54dpQ Around 1660, he developed a individual approach in the choice of subjects, such as the Sick Child (Rijksmuseum, Amsterdam), one of his best-known works. His early works depict rustic or biblical scenes, but when he moved to Amsterdam, he depicted for the tastes of this city's art market. Three bells were tolled (a habit in use with Dutch Catholics), when he died at the age 38.

To pursue this issue, you can digit: http://meetingbenches.com/2017/02/gabriel-metsu-16291667-dutch-painter-painted-old-people-young-single-women/
The intellectual property of the images that appear in this blog correspond to their authors. The sole purpose of this site, is to spread the knowledge of these painters and that other people enjoy their works.