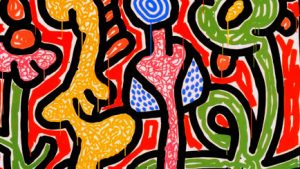 KEITH HARING 1/3 – His artistic creations are attributable to the metropolitan graffiti (of which he was one of the greatest interpreters, together with Jean-Michel Basquiat). https://www.youtube.com/watch?v=GPlzHR_WyVA This man was really creative American painter and writer. Already when he was a child, he revealed talent for drawing, encouraged by his father, who had understood the artistic talent of his son. He continued to cultivate his passion for drawing up to a special moment, when he entered the Hirshhorn Museum in Washington, D.C., where the graphic production of Andy Warhol captured his creative attention and imagination.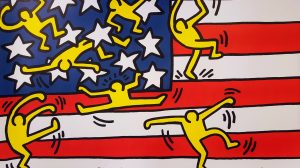 KEITH HARING 2/3 – From Pittsburgh he moved to New York, looking for the contact with artists, who had similar interests. Giving up the chance to take a degree, he didn't continue with his studies at the School of Visual Art, because he was impatient go through the traditional artistic diffusion systems. https://www.youtube.com/watch?v=jAEjO2i4OC4 His iconography conveys clear messages, which are related to the burning issues of his time. To express his creativity, he dived into the scene in New York urban spaces, places rich in expressive cues. Since 1980, he did not hide his enthusiasm for the graffiti. In 1984, Haring visited Australia and painted wall murals in Melbourne, received a commission from the  National Gallery of Victoria. He also visited and painted in Rio de Janeiro and in 1986, painted a section of the Berlin Wall.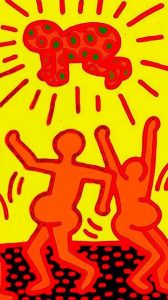 KEITH HARING 3/3 – He also collaborated with fashion designers Vivienne Westwood and Malcolm McLaren, with his artwork covering the clothing which was most famously worn by a pink-wigged Madonna for a performance of her song Like a Virgin on the British pop-music programme Top of the Pops. Haring was openly gay and in 1988, he was diagnosed with AIDS. Haring's diagnosis was never a secret; it was accepted part of his persona. He died on February 16, 1990 of AIDS-related complications, at the age of thirty-one years.
To pursue this issue, you can digit: http://meetingbenches.com/2017/02/keith-haring-19581990-american-painter-art-everyone-reason-strive-work/
The intellectual property of the images that appear in this blog correspond to their authors. The sole purpose of this site, is to spread the knowledge of these painters and that other people enjoy their works.