Oleg Shuplyak 1/4 – was born 23 September 1967 in Ternopil, Ukraine.  In 1991 he graduated the Architecture Department of the Lviv Polytechnic National University. But his first love and passion was always painting, however, and he has used the technical precision of an architect to create his intriguing optical illusions.
Oleg Shuplyak 2/4  – It was at the institute while in his free time, he began to create oil paintings, drawing famous faces inside it. He makes the second image so easily recognizable in many of his paintings, that observers might miss the original image sometimes. Observing the painting closely and attempting not to concentrate on the central face it should still be possible to see the initial idea of the author. His works then takes the spectators to the next level of thinking. In his paintings, one can see trees, mountains and other natural objects aligned perfectly to form portraits. We can also call it as "hidden images in paintings".
Oleg Shuplyak 3/4 – Oleg's works usually feature a portrait of famous personalities as Van Gogh, Sigmund Freud, Zeus, Uncle Sam, Charles Darwin, John Lennon, Salvador Dali are just few among dozens. Personally I like this great manifestation of creativity and tastefully compound many objects that create a very harmonious composition. In addition his works convey a very philosophical message. All the subjects are chosen very thoughtfully and everything has its meaning, by using both logic and emotions.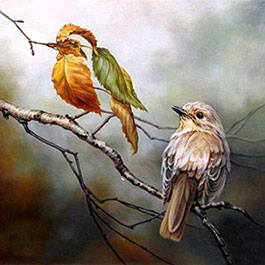 Oleg Shuplyak 4/4  – His unique approach branded him as one of the most accomplished and famous illusionists of our time. Since 2000 he has been a member of the National Union of Artists of Ukraine. He won several awards and prizes such as: 2013 – Gold medal and a diploma laureate "For excellence in creating a unique style of Art" International Foundation "Cultural Heritage" (St.Petersburg), or 2013 – First Prize in the Ukrainian open competition for the best design of a logo to commemorate the 200th anniversary of the birth of Taras Shevchenko.
The gallery you're about to see hides a surreal world once you take a look at it more closely: http://meetingbenches.com/2016/12/oleg-shuplyak-19…images-paintings/