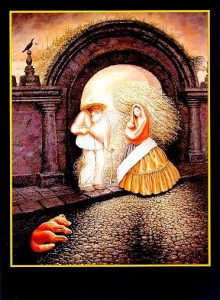 Octavio Ocampo 1/4 – was born 28 February 1943 in Celaya, Guanajuato, Mexico. He was growing up in a family of designers. He first studied art as a little boy. Professor Salvador Zuniga directed the local art school in his hometown. At art school, Ocampo constructed papier mache figures for floats, altars, and ornaments that were used during carnival parades and other festivals. In high school Ocampo painted murals for the Preparatory School and the City Hall of Celaya. Ruth Rivera, daughter of artist and muralist Diego Rivera encouraged him to attend the School of Painting and Sculpture of the National Fine Art Institute.
Octavio Ocampo 2/4 – His talents are not limited to painting and sculpture, but he also extended them to acting and dancing. At the Art Institute of San Francisco, he studied all these disciplines and graduating in 1974. Pursued both a film and theater career. He has been exhibiting since 1972. In 1976, he began to devote himself solely to painting and sculpture. Now he works and resides in Tepoztlan, north of Mexico City. It is considered to be one of the most magical places on earth.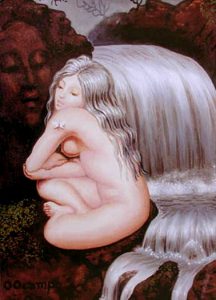 Octavio Ocampo 3/4 – He is known for several works, all evocative paintings in which detailed images are intricately woven together to create larger images – the optical illusion fading back and stepping forward as you study the pieces, notice the details, and finally recognize the large scale intention. This is what Octavio Ocampo terms his "metamorphic" style.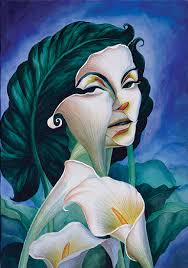 Octavio Ocampo 4/4 – His work is in major collections in Mexico, the National Palace and the collections of the last three presidents. His artworks in the United States represents the Visions Fine Art Gallery in Sedona, Arizona. Several individual works of him have been commissioned for among others former President  Jimmy Carter, Jane Fonda, Cher and César Chávez.
To pursue this issue view the gallery of paintings here : http://meetingbenches.com/2016/12/octavio-ocampo-1943-mexican-painter-experience-the-magic/