Pictorial artifacts that humanize an artist
Feeaturing 128 paintings and drawings, until April 2000 – and fifty years after presenting its first Jean Philippe Dallaire exhibition – the Montreal Museum of Fine Arts https://www.absolutearts.com/artsnews/2000/03/02/26296.html showed its second retrospective of that remarkably talented artist and about his contribution to Canadian art history. Set up chronologically according to Discoveries of youth, The inventions of and independent artist and with Carnival backdrop, the exhibition offered visitors a wiew about Dallaire's original way of build his creative universe full of birds, flags and richly woven fabrics. In addition to the design of the tapestries and his sensitivity to the myths of French Canada, his creativity was influence by the Cubist analysis of form.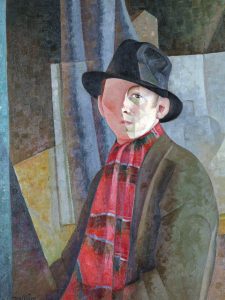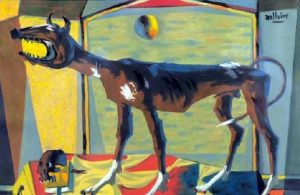 Using a scrupulous brushed oil painting technique, he loved to create shapes with a background of neutral colors, which, after drying, enriches with further details. Devoid of any nuance of stylistic fidelity, he creates eclectic paintings full of expressiveness. Using a glass palette towards the end of his life, Jean Philippe Dallaire https://www.beaux-arts.ca/collection/artiste/jean-dallaire saw the world as a spectacle and denounced its implied tragedies through puppets. Influenced by Italian theatre, Surrealism and synthetic Cubism, between the 1930s and 1960s, this Québécois painter worked in Canada and France. The house is liste as a Historic Monument by the City of Gatineau. Built at 57-57 B in rue Vaudreuil, a house owes its name to a Quebec artist who was born here.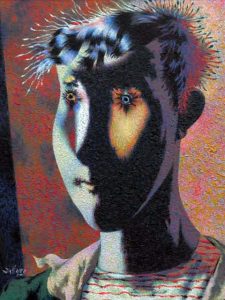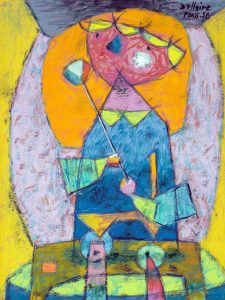 Despite his cheerful palette, restless and affected characters populate his work. From a young age, he made drawings. Born in 1916 in Gatineau (Quebec) in a family taht lived at 57 rue Vaudreuil where, in the attic, his mother had incouraged him to draw. At the age of fifteen, he rented a studio on rue Portage. Near Ottawa, as well as in Fall River (Massachusetts), he painted religious murals for the Dominican Fathers. With his work, Jean Philippe Dallaire https://www.ledevoir.com/lire/660204/bede-dallaire-le-peintre-qui-s-etait-invente-lui-meme immortalized scenes and people, a house and a clothesline, a landscape and his young wife Marie-Thérèse. One of his little gouaches on paper, dating from 1948 and with a curious title (Qui est coupable?), will surely enrich your interest in this Canadian painter.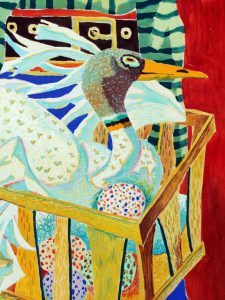 With classes focused on the technical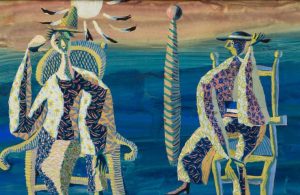 arts, Jean Philippe Dallaire https://www.galeriecosner.com/fr/artistes/25-jean-philippe-dallaire.html attended the École Technique de Hull and the Central Technical School in Toronto. In the 1930s, as a self-taught artist, he became acquainted with the library of the Dominican convent in Ottawa. He married Marie-Thérèse and went with her to Paris, with the financial help of the Quebec government. In Paris, among others have know the work of Picasso, Chagall and Miró. Since his arrival, he was evolve from Cubism to Abstractism. Therefore, exposed to so many new influences, he have absorbed them in countless ways.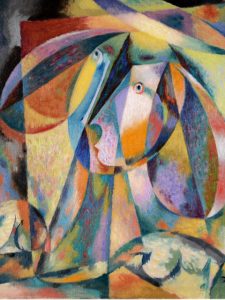 Self-taught and original artist, he paid little attention to trends. In fact, he let his style evolve gradually. This French-Canadian painter, with an eclectic and original style, is well know for his scenes populated by strange and often macabre characters. As you can observe, affirming his belief in absorbing influences, Jean Philippe Dallaire https://www.gallery.ca/collection/artist/jean-dallaire paintings are eclectic in style. After a stay at the Académie André Lhote in Montparnasse, as British subject, in 1940 the Gestapo imprisoned him until the end of the Second World War. Returned home, continuing to show in Canada and abroad, he taught at the École des Beaux-Arts in Quebec City. After a severe illness, in 1958, he quit job and family, spending his last life years painting in France, where he lived in Vence.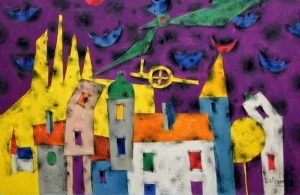 He was technically a virtuoso artist, both in painting and drawing. However, that is not all. Indeed, he painted on cardboard and linen or cotton canvas, as well as on chipboard and plywood. From the mid-1960s, in Jean Philippe Dallaire https://bilan.usherbrooke.ca/bilan/pages/biographies/582.html paintings paint it is almost transparent and figures floating as if he was leaving everything behind. Demanding, meticulous artist, he also saw with his heart.  With intensity of both playfulness and melancholy, he understand and love his subjects. He died in 1965, and the the Musée national des beaux-arts du Québec held his first retrospective exhibition. His paintings are expensive, yet, Artistica Fine Art posters https://artisticafineart.com/collections/museum/artist_dallaire-jean, made at a very competitive price on thick, high quality paper, give the buyer quality extremely vivid image.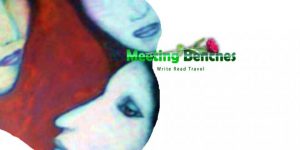 To broaden your horizon of knowledge about other painters, you can type http://meetingbenches.com/category/paintings/. The sole purpose of this site is to spread the knowledge of these artists and that other people enjoy their works. The property of the images that appear in this blog correspond to their authors.