Work and style by a creative artist of her time.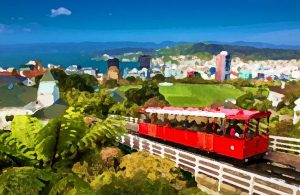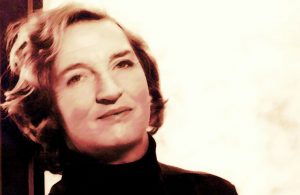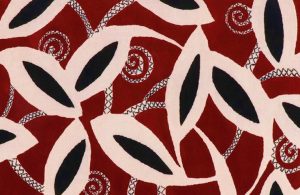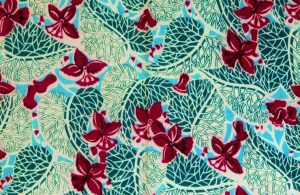 Born in Wellington (New Zealand) into a September day, 1918, into a family of artists, she one of Australasia's most innovative textile designers of the 1940s. Her great grandfather and her grandfather were regarded Tasmanian landscape painters.  It was unusual to represent native flora on dress fabrics, but AVIS HIGGS https://avishiggs.com/ based several of her designs on them. Designed in 1949 before she set out for Europe, here she had drawn a Kowha, the New Zealand native plant. Her designs can be divided into four broad themes: social, marine flora and fauna, and indigenous Pacific cultures.
She did not complete her course in design at the Art School of Wellington Technical College, but was recommended for a design position in Wellington, where she learned the principles of screenprinting. Designed for women's dress fabrics, AVIS HIGGS https://collections.tepapa.govt.nz/agent/1057 developed a modernistic approach that narrated the life and adventures of young, independent women. Using modern colour schemes, her designs included beach scenes, birds, and Aboriginal and Pacific motifs. She also introduced fabrics interwoven with stylish patterns. Her Whacko design into printed fabric was born 40 years before Mambo invented Australian surf clothes you know.
In Australia, AVIS HIGGS worked at a Sydney firm silk & textile printers, where she was the company's head designer. Here, she drew on the local environment for her textiles designs, resulting in patterns featuring sailing boots, surfers and sun umbrellas. Returned to New Zealand, she drew on her surroundings for her work, creating designs based on native plants, flowers, and taonga held. After trauma of a car accident, painting became her focus, and she exhibited throughout New Zealand. She died after a long creative season into an October day 2016, aged 98 https://www.facebook.com/nzfashionmuseum/posts/1376147025736503.
If you want to get to know other creative people who have contributed to enriching international fashion scene, you can type http://meetingbenches.com/category/boutique_travel/. The sole purpose of this site is to spread the knowledge of these artists and that other people enjoy their works. The property of the images that appear in this blog correspond to their authors.