Starting seeing more land and less sea.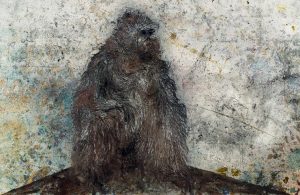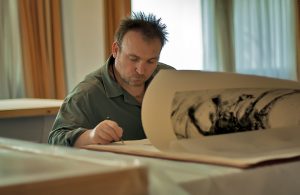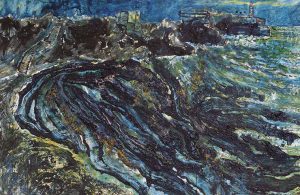 In the southern part of the island of Majorca, the picturesque town of Felanitx is surrounded by suggestive windmills. The main square of the city, with the beautiful façade of the Esglesia de Sant Miquel, is ideal for relaxing, without losing the opportunity to taste at least one spicy sausage, made with black pork. This is the birthplace of the Renaissance architect Guillem Sagrera and of a twentieth century painter who loves to consider art as a stratification of time.
Currently, he lives and works in Paris and Mallorca, but he was born in 1957, in Felanitx (Mallorca). His nomadism influenced his work. After having studied at the Arts and Crafts School, MIQUEL BARCELO' enrolled at the Fine Arts School of Barcelona. After his return to Mallorca, he had his first one-man show at the Palma Museum. In 1990, he designed costumes and the stage for the Opéra Comique in Paris and at the Festival of Avignon 2006.
With his practice involving a variety of styles and mediums, he it is driven by the effects of time. From the mid eighties on, his work has been subject of numerous shows worldwide. Throughout the 1980s,  always returning to Paris which became a second home, MIQUEL BARCELO' travelled across Europe, the United States and West Africa where, fascinated by Mali, a third studio was installed in Segou, under impressions of the power of its light, sea and rivers. In 2010, he was invited to teach at a workshop by the École Nationale Supérieure d'Architecture de Versailles.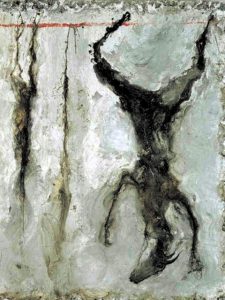 For him, the ocean that reminds him of his homeland is a reoccurring theme. In 2002, MIQUEL BARCELO' https://www.miquelbarcelo.org/ lined the chapel of St. Peter of the cathedral of Palma with ceramic works. In 2004, his watercolours illustrating Dante's Divina Commedia were shown at the Louvre Museum in Paris. In 2008, he painted the ellipsoidal dome in the Human Rights Council room at UNO in Geneva. In 2017, he was invested Doctor Honoris Causa by the University of Salamanca.
The property of the images that appear in this blog correspond to their authors. To broaden your horizon of knowledge about other painters, you can type http://meetingbenches.com/category/paintings/. The sole purpose of this site is to spread the knowledge of these artists and that other people enjoy their works.