When you put features of humans in your paintings.
This location is also famous for pine forests, beautiful fall foliage and splendid snowscapes. Here, Common Herons build nests in tall trees, and breed from April through July. In ancient times, it was famous for its three mountains and two rivers. Gimcheon is a city in North Gyeongsang Province (South Korea). Arriving you too can visit its famous Jikjisa Temple, located at the foot of Mt Hwangaksan (a well-known habitat for many cranes that reside on this mountain). Among its notable people, an informal painter, birds-lover.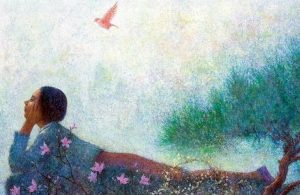 He teaching at Sejong University, as a professor of Painting. He began to paint early in his life, sawing the beauty of nature, such as flowers blooming in orchards. He becomed famous for a portrait drawn in profile, with a bird and flowers. He is a Korean artist famous for his paintings and poems. Born into a February day, 1950 (in Gimcheon, South Korea), HANG-RYUL PARK participated in more than 100 group exhibitions all around the world. He spent lots of time, from going the mountains and lakes around and reading books. After the arts high school, he received his master's degree in Painting in Hongik University.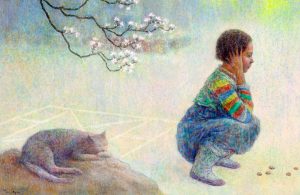 His cousin was also his inspiration, because her image went well with butterflies, fruits and birds. Fascinated with Goguryeo murals, after his trip to Mongolia, HANG-RYUL PARK remain inspired by Korean traditional motives and drew a girl wearing Korean Traditional Clothing. His style changed after his first poetical works. He is an informal artist using minimal forms and geometric abstractions, where he unraveled his poetic sensibility to draw paintings with lyrical concreteness. He often used imaginary animals from the murals (such as fish and bird with human face), living in the sun.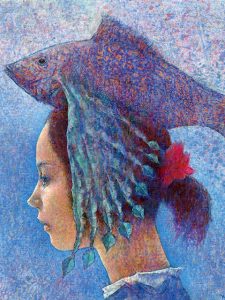 His painted people by a straight face always express resignation, and indifference. He draws people in silence, with their mouths closed. Just like birds, also flowers are located in his paintings background. Among all the flowers, he like draws Japanese apricot blossom (because of its purity of its endurance). Sometimes, HANG-RYUL PARK draws a bird sitting on a pole that connects the ground and the heaven. As he says, birds represent the human's inner side. Never you forget: to him, the birds means existence of human soul (that is he draws sparrows), due to their closeness to humans.
The property of the images that appear in this blog correspond to their authors. The sole purpose of this site is to spread the knowledge of these artists and that other people enjoy their works. To pursue this issue, you can digit: https://www.mutualart.com/Artist/Park-Hang-Ryul/AB7DEFA0B6F415F3