A journey into eighteenth century, based on the idea of delicacy and sensorial homogenization.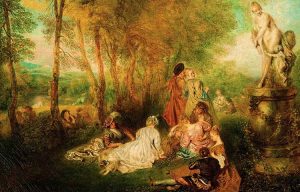 From south to north, with a slight detour to the east, the best way to give you some memories is to move by car. Rich in places of art and natural beauties, France offers you the chance to create a splendid "journey of author". Only in this way will you have the opportunity to admire the paintings of Watteau, ancient cathedrals and precious villages, listening to the organ music of Archimbaud, after tasting the dishes and wines typical of the regions you have decided to travel, moving in the eighteenth–century atmospheres included between Carpentras and Valenciennes.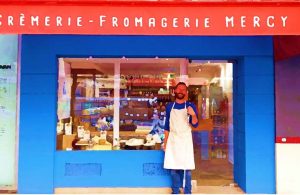 Your "author's journey" starts in Carpentras in southern France. Souvenirs? You can stop at the 23 Place Maurice Charretier, where Cremerie Fromagerie Mercy you offer excellent local cuisine and outstanding service. Its western façade is dominated by the Gothic bell tower. In the department of Vaucluse, the cathedral Saint–Siffrein of Carpentras is a Roman Catholic church that was the ancient cathedral of the city of Carpentras, a historic monument since 1840. Of Gothic style, it was raised on the site of the old Romanesque cathedral. Its decoration has two organs (one of which is classified as historical monuments), they are at the height of the main altar. Don't forget capture with your camera the Jewish door with the tympanum of the Holy Trinity (sixteenth century). If you do not want to pray, sit and listen to at least one piece of music by a composer who has spent his entire life under this roof.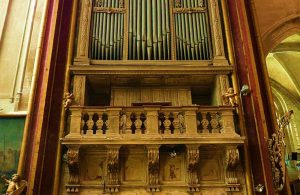 His works include a massive Livre d'orgue, six masses, two Magnificats and four settings of Dixit Dominus. Neither the composer nor the music were known until the late 1990s. Born in Carpentras into a November day,1705, he become one of the most representatives masters of the Baroque style of French organ school. LOUIS ARCHIMBAUD. Educated in the Carpentras Cathedral school, he became organist of the cathedral, until his death in 1789.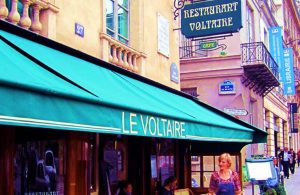 Starting from Carpentras, you will travel 426 miles (686 km) before arriving in Paris in about seven hours by car. The Voltaire station is on line 9 (the nearest stations are Oberkampf and Nation). At 27 Quai Voltaire, Café Voltaire is also open on Sundays. Despite a tumultuous relationship with city officials during his lifetime, everyone has the opportunity to see a statue in which the heart of Voltaire is buried. His heart ended in the hands of a marquis who put it in a metal box, in a room decorated with the words: "His spirit is everywhere, his heart is here". In Paris, you too can make a pilgrimage to the National Library, to listen to his heart.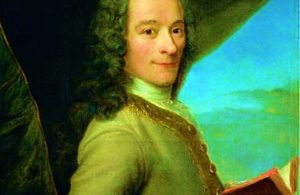 François-Marie Arouet (pen name Voltaire), is considered one of France's greatest writers from the Age of Enlightenment period. In keeping with other Enlightenment thinkers of the era, VOLTAIRE was a deist looking favorably on religious tolerance. Often at odds with French authorities over his works, he was twice imprisoned and spent many years in exile. Born in 1694, in Paris, he established himself as one of the leading writers of the Enlightenment. His famed works include the tragic play Zaïre, the historical study The Age of Louis XIV and the satirical novella Candide.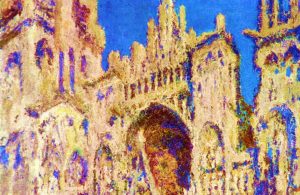 The stretch of road between Paris and Rouen is relatively short: 83 miles (133 km), it will take you only two hours by car. This is a small local of Rouen, https://us.france.fr/en/normandy/article/rouen-1 typical of Normandy, where you can find special dishes (such as frogs), absolutely to try. If you do not want to eat frogs, try the entrecote of the cows in the area, tender and tasty. "La Petite Auberge" awaits you at 164 Rue Martainville. Tourists travel to visit this important French city, the birthplace of Impressionism! At the cathedral, you too can see the series of thirty Impressionist paintings featuring Rouen Cathedral, painted by Claude Monet.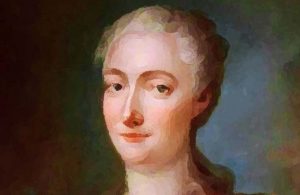 Born in the upper middle class of the eighteenth century, she wrote poetry and plays for the stage. ANNE-MARIE FIQUET DU BOCCAGE was born in Rouen on an October day in 1710. At the age of 17, she married a tax collector who was fond of literature. Having settled in Paris, they began to establish a salon, where she began to associate with famous figures. In what was a rare distinction for a woman, she was awared the first prize of the Rouen Academy, in this way knowing Voltaire and his friend Le Cornier de Cideville, as well as to the abbé Trublet and other learned figures. In 1748, she published a translation of Milton's Paradise Lost. Through this poem, she gained sudden fame, and until the 1760s innumerable poems about her were published.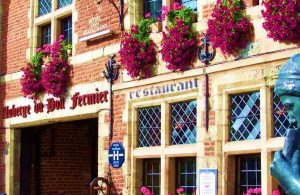 Starting from Rouen, the last part of your "author's journey" in France, in two and a half hours by car and 151 miles (243 km) will lead you to Valenciennes. In the permanent search for producers and regional products, their cuisine is supplied in Hauts-de-France, to invent all the recipes that make up the culinary heritage of which they are proud. "Auberge du Bon Fermier" http://www.bonfermier.com/en/ is waiting for you at 64 rue de Famars. This town it lies on the Scheldt river. In 1677, the armies of Louis XIV captured the city that became one of the main strongholds of northern France. Now, also for you, it has preserved its long history. It is impossible to disassociate its Museum of Fine Arts fromthis town. As regards paintings, there are the permanent collections of major artists (such as Rubens, Jordaens and Watteau).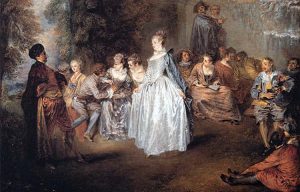 Little known during his lifetime beyond a small circle of his devotees, he seldom was mentioned in contemporary art criticism. Some of his subjects were drawn from the world of Italian comedy and ballet. French painter ANTOINE WATTEAU spurred the interest in colour and movement. He was baptised in Valenciennes in a October day, living 37 intense creative years, until his dead in a July day in Nogent-sur-Marne. Shifting it to the less formally classical, Rococo, he revitalized the Baroque style, with inventing scenes of bucolic and idyllic charm. His first artistic subjects were charlatans selling remedies on the streets of Valenciennes.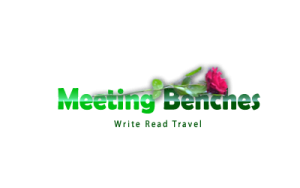 The intellectual property of the images that appear in this blog correspond to their authors. The sole purpose of this site, is to spread the knowledge of these artists and that other people enjoy their works. To pursue this issue, you can digit: http://meetingbenches.com/2018/10/the-beautiful-century-the-french-humanitarian-dream-between-carpentras-and-valenciennes/