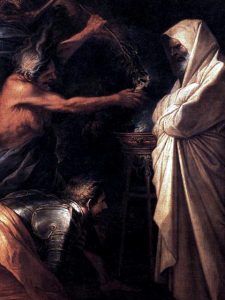 WHEN TEARS ARE THE LAST LEFTOVERS OF HOPE
SALVATOR ROSA 1/3 – At age 17, he was initiated as an artist. This child, who was born in the village of Arenella (in Naples) in 1615, had known the basics of pictorial art from his grandfather's shop, painting on small real life scenes canvases. In the shop of a Spanish painter – exponent of Caravaggio trends – he learnt to paint the theaters of truth, the lives of humans. In fact, through the human experience, painting was able to reconcile reality and fantasy, grandiosity and misery. If you want to realize his artistic sensibility for the rendering of picturesque nature, you can visit the Galleria Estense (at Modena) http://www.gallerie-estensi.beniculturali.it/galleria-estense/ to admire "Erminia and Tancredi", a beautiful painting made around 1640.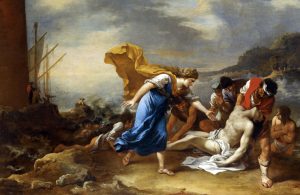 SALVATOR ROSA 2/3 – In 1635, for reasons of health, he had abandoned Rome and returned to Naples, but later in 1639 he returned to this eternal city (preserving the natural enchantment of the Neapolitan landscapes), but scandalizing Rome for his attacks on Baroque art. In order to work, he decided to move to the Medici court in Florence, where misty landscapes of Palazzo Pitti was born, with large paintings of gray and blue tones, rosé and red. Among his most important works, do not forget to admire the "Temptations of St. Anthony" at Palazzo Pitti, Florence https://www.musement.com/uk/florence/palazzo-pitti-and-boboli-gardens-v/?idengine=700000001036363&idcampaign=71700000012236701&idadgroup=58700000772574850&nmkeyword=palazzo+pitti+firenze&idkeyword=43700008623615617&gclid=CJa7yOnUzNQCFUsq0wodyNcAdg&gclsrc=aw.ds At the expiration of his Florentine stay, witchcraft and hunting scenes entered his creative horizon.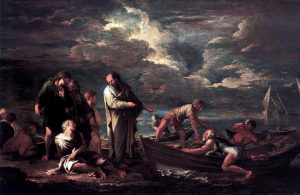 SALVATOR ROSA 3/3 – With regard to the civilization of his time, with painting he wanted to express moral attitudes, expressing disagreement over everything consolidated. As you can see, in his paintings he tried to animate the visual reality, but with a theatrical emphasis, moving away from the baroque style of the time. Looking at his painting, you can find, he was also rebellious about emotions, because he was capable of moving in front of the happy, serene, horrid and wild nature. https://www.youtube.com/watch?v=sVMLwWek8CA In 1649 he returned to Rome, exposing his works to the Pantheon. In 1673, few days after marrying a woman named Lucrezia, painter and printer, poet and author of satire, died in Rome.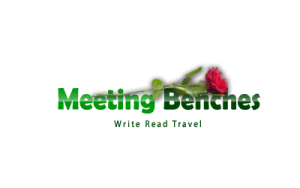 The intellectual property of the images that appear in this blog correspond to their authors. The sole purpose of this site, is to spread the knowledge of these artists and that other people enjoy their works. To persue this issue, you can digit: http://meetingbenches.com/2017/06/discovering-italian-creativity-2145-km-amazement-italian-sky/