HE WISHES HIS PICTURES GIVE JOY, EVEN TELLING THE LONELINESS – MARK KOSTABI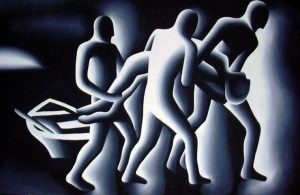 MARK KOSTABI 1/3 – He paints faceless figures, which express man's fears. He was born in Los Angeles in 1960, as a child of Estonian immigrants. He graduated at Fullerton's California State University. Looking at his paintings, you may notice something unusual: paying homage to the Masters of Art History, he universalizes their subjects within his pictorial creativity. http://www.mkostabi.com/ Using decisive colors and easy metaphors, body and sensualities are depicted describing emotions, even though they have no somatic traits.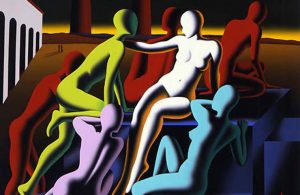 MARK KOSTABI 2/3 – In 1982 he was already in New York, inventing self-interviews, which gravitated around the mercification of art, thus creating a prominent position within the East Village's artistic movement. Having as a reference painter Duchamp, he began to paint really special faceless figures and unidentified mannequins, all suspended between dreamlike and metaphysical atmospheres. Since 1987 he has been recognized as an international artist. In 1988 he created his "Renaissance Bottega" in order to creatively involve painters in the project. Since 1996, he shares his creative business between New York and Rome.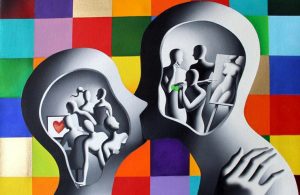 MARK KOSTABI 3/3 – He considers himself a contemporary artist, representing the present, but looking at the teachings of the past. His most important wish is that his pictures continue to give joy, even telling the loneliness. You can admire some of his works in the permanent collections of the Metropolitan Museum and the Brooklyn Museum https://www.brooklynmuseum.org/ or in the Museum of Groningen http://www.groningermuseum.nl/en and in the National Gallery of Modern Art http://lagallerianazionale.com/en/ in Rome. Over 160 personal exhibitions all over the world testify, that his creative dream also had a remarkable audience success.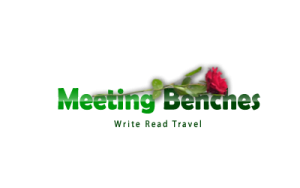 To pursue this issue, you can digit: http://meetingbenches.com/2017/05/american-art-trip-crossing-united-states-coast-coast/
The intellectual property of the images that appear in this blog correspond to their authors. The sole purpose of this site, is to spread the knowledge of these painters and that other people enjoy their works.