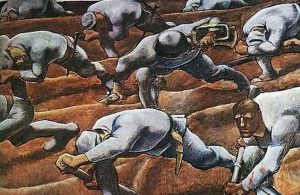 EGGER-LIENZ 1/3 – He was born in Dölsach, a municipality in the district of Lienz in 1868. After elementary school, he studied painting first with his father (a church painter). As a child he was susceptible to religious sentiment and rural life, elements, which became the main theme of his artistic work. https://www.youtube.com/watch?v=7sQq6W8p32Q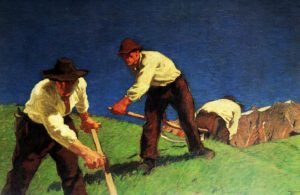 ALBIN EGGER-LIENZ 2/3 – He had attended the Academy of Fine Arts in Munich. In 1899 he moved to Vienna. During 1911 and 1912 he was professor at the Weimar Saxon-Grand Ducal Art School in Weimar and he served as war painter during World War I. In 1918, he turned down a professorship at the Vienna Academy and settled in South Tyrol, in the Ötz valley. His works included religious themes, rural scenes and the horror of war in general. In the Museum of Military History in Vienna, http://www.hgm.at/ you can admire his painting, tempera on canvas (245 x 476 cm) with significant title: Unnamed, 1914.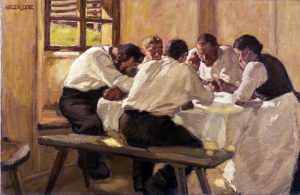 ALBIN EGGER-LIENZ 3/3 – After visiting Netherlands, where he painted marine and dune paintings, he moved with his family near Bolzano, where he was war painter at the southern Austrian front. He also made litographs for some motifs such as the miners. After the end of the war, he was appointed honorary professor of the University of Insbruck and honorary citizen of Lienz. https://www.youtube.com/watch?v=_VE4hUMyweg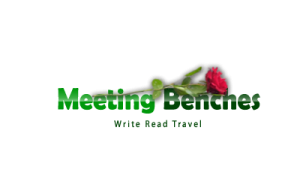 The intellectual property of the images that appear in this blog correspond to their authors. The sole purpose of this site, is to spread the knowledge of these artists and that other people enjoy their works.