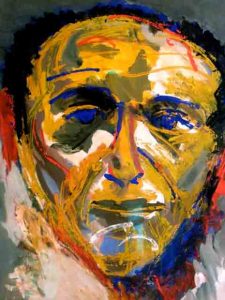 SPONTANEOUS ESPRESSIONISM, WHICH CREATES IRONIC AND GROTTESCHE FIGURES
KAREL APPEL 1/3 – This Dutch painter and sculptor was born in Amsterdam in 1921. Growing up, he studied at the Rijksakademie van Beeldende Kunsten in Amsterdam, but had to wait till 1946 to complete his first exhibition (though very young, he already had a personal style), with clear pictorial influences from Picasso and Matisse. Since 1947, he had started assembling pieces of wood and embossed objects. His planetary notoriety began in 1950, when he moved to Paris, where his painting gradually slipped into an abstract spontaneous expressionism. But he also did numerous trips to America. You can find some of his works in the Museum of Modern Art in New York City and in the Tate Gallery in London. Http://www.karelappelfoundation.com/ His pictorial style is based on the primary colors, which are laid with thick and pasty brush strokes.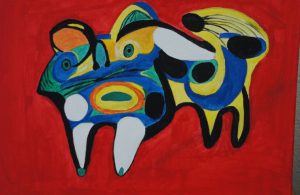 KAREL APPEL 2/3 – His paintings, apparently abstract, contain human figures and animals, which seem to want to accompany you into fear and spirituality. In 1954 he went to Albisola (in Italy), to learn about the technique of the Ligurian pottery, realizing the large windows of a church in Zaandam three years later in Netherland. They are three American retrospectives (Pasadena, Phoenix and Santa Barbara) from 1961, and from 1965 in the museums of Gothenburg, Amsterdam and Stockholm. The name Cobra is for Copenhagen, Brussels and Amsterdam (the cities of origin of the founders of an artistic movement to which Karel Appel had adhered). At this address (Sandbergplein 1, 1181 ZX Amstelveen), you can find the Cobra Museum http://www.cobra-museum.nl/en/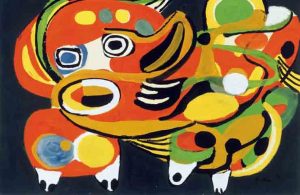 KAREL APPEL 3/3 – His favorite themes include birds and women, children, the sun and the moon, along with the mythological beast, with deformed shapes, creating sometimes grotesque figures. Starting in 1968, his assemblages appear in color areas, along with the roundwood sculptures painted in wood. The expressionist charge of his painting is entrusted to the power of the barbaric, rich and evocative pictorial material. In the eighties, along with a writer and a poet, he had realized a cycle of paintings and visual poems. In Zurich, he died because of heart problems in 2006, but his mysterious images continue to dance in front of our eyes. Visiting Amsterdam's Stedelijk Museum http://www.stedelijk.nl/en/exhibitions/collection-highlights/now-on-view/84757 you will be able to admire the fruits of his creativity.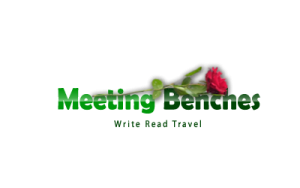 The intellectual property of the images that appear in this blog correspond to their authors. The sole purpose of this site, is to spread the knowledge of these artists and that other people enjoy their works. To pursue this issue, you can digit: http://meetingbenches.com/2017/07/many-kinds-dutch-creativity/