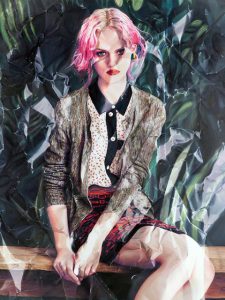 I AM FED UP OF GOING FAST, TIRED OF THE EXCESSES AND SUPERFICIALITY, I NEED TO PAINT TO SLOW DOWN
STEFANIA FERSINI 1/3 – Her inspiration? The world of fashion. She was born in Aosta, but she lives and works in Turin, creating paintings, which look like photos https://www.stefaniafersini.com/ She loves working with painting, which reflects the excess of visual products, but she also likes to focus on the feminine condition in today's society. As you can see, the beauty of women in her works is deliberately broken by the creeps of the page, and she creates photorealistic paintings (not photographs of perfectly posing patterns), enriching them with dazzling creases and streaks. She explains her series as an examination of the American, consumerist culture. The idea of waste is represented in the content of the paintings – magazines, mass-produced stuff, which no one really needs, but people are taught to feel like they need and secondly, the crumpled pages represent actual waste.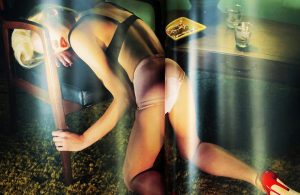 STEFANIA FERSINI 2/3 – She started her pictorial journey coming from a different creative field – the design – where she had been associated with a collective nucleus of artists and designers, all active in contemporary art in the fields of architectural design. Https://www.youtube.com/watch?v=cPiMSUhKu7M In her creative search, you can find reprocessing of female images (drawn by fashion trunks) in large paintings. Focusing on painting since 2012, she has achieved full expressive mastery, because she needs to slow down and paint beautiful faces and perfect bodies, but fractured and distorted, where young women become forage for consumerism.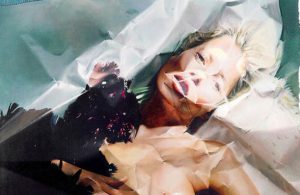 STEFANIA FERSINI 3/3 – For many years, this artist reflects on the limitation of images and the idea of replication. Https://www.facebook.com/Stefania-Fersini-301904676605120/ This artist, who does not love excesses and superficiality, has the ability to slow down paint and meditate, contemplating beauty everywhere, as in a mirror. The fact that her paintings are like "crumpled" adds to the representations the perception of rage and violence. As pop art was contemporary in the 1960s, she paints what is the son of a contemporary malaise.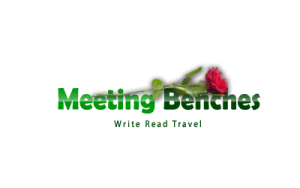 The intellectual property of the images that appear in this blog correspond to their authors. The sole purpose of this site, is to spread the knowledge of these artists and that other people enjoy their works. To pursue this issue, you can digit: http://meetingbenches.com/2017/06/discovering-italian-creativity-2145-km-amazement-italian-sky/